Philippines: still marching for peace and the environment
This post is also available in: French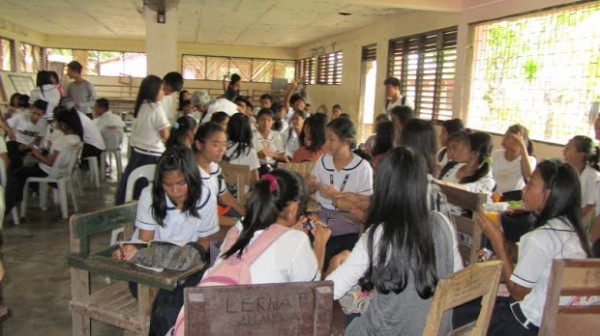 Week-long celebrations surrounding the 21st Santa Magdalena March for Peace and the Environment was held in Santa Magdalena town in Sorsogon province, the southernmost province of the island of Luzon in the Philippines.
The photo here depicting students involveds in the Active NonViolence Symposia.
World without Wars and without Violence participated in this with spokesperson Osbi Santilan facilitating a symposia on active nonviolence and joining the youth community in general preparations, tree-planting activities and in the March itself. The 18th edition of this local March was included as part of the World March for Peace and Nonviolence in the Philippines (Oct. 2009).
"The Santa Magdalena March project was initiated in 1991, by Mario "Toots" Fungo, native resident of Santa Magdalena, Sorsogon, and the chairperson of the Building & Organizing Christian Communities," says Mr Santilan. "Taking part in this year's March were: the Philippine representative of the Byakko Shinko Kai (White Light Association) and World Peace Prayer Society (WPPS), peace and spiritual organizations based in Japan and New York City, respectively. Mr. Fungo is also a Board Director of The Peacemakers' Circle, a local inter-faith community and a partner to World without Wars and without Violence in the Philippines. All of these organizations participated in the historic 2009-2010 World March for Peace and Nonviolence," he added.