The Stansted 15 will not spend time in jail
This post is also available in: Spanish, Italian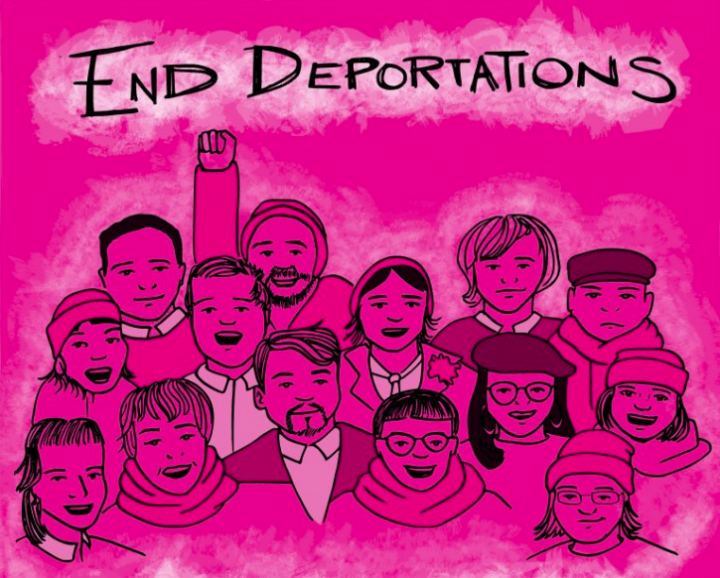 The Stansted 15, a group of anti-deportation protesters who blocked a government deportation flight last year, will avoid jail, with 3 set to be given suspended sentences and 12 set to be given community service. Sentenced today by a Crown Court judge, they learnt their verdict in December after a trial that lasted from 1st October until 10th December. The jury found all fifteen defendants guilty of intentional disruption of services and endangerment at an aerodrome under the 1990 Aviation and Maritime Security Act – a controversial use of terror-related law.
In a statement, the Stansted 15 said: "When a country uses draconian terror legislation against people for peaceful protest, snatches others from their homes in dawn raids, incarcerates them without time limit and forces them onto planes in the middle of the night, due to take them to places where their lives might be at risk, something is very seriously wrong. Every single one of us should be very worried about our democracy and our future. We demand that these convictions are quashed, and that the Government dismantles the vicious, barely legal, immigration system that destroys so many people's lives."
Raj Chada, Partner from Hodge Jones & Allen, who represented all 15 of the defendants, declared: "While we are relieved that none of our clients face a custodial sentence, today is still a sad day for justice. Our clients prevented individuals being illegally removed from the UK and should never have been charged under counter terrorism legislation. We maintain that this was an abuse of power by the Attorney General and the CPS and will continue to fight in the appeal courts to get these wrongful convictions overturned."
Shami Chakrabarti, Labour's Shadow Attorney General, responding to the sentencing of the Stansted 15, said: "It will be a matter of relief to all those who value peaceful dissent, proportionality and common sense that none of the Stansted 15 have been imprisoned. But their terrorism convictions remain a real concern with serious consequences for their lives. The next Labour Government will review the statute book to better guarantee the right to peaceful dissent. We must end the hostile environment, not only for vulnerable people, but also those who stand up for them."
Kate Allen, Amnesty International UK's Director, said: "The decision not to jail these brave human rights defenders is a relief, but not enough. They should never have faced this very serious terrorism-related charge in the first place. They remain convicted of an offence which simply doesn't fit their actions and this trial could have a dangerous chilling effect on peaceful protest in this country. The case of the Stansted 15 follows a trend across Europe of people acting for migrants and refugees who have been harassed, intimidated and criminalized for their acts of solidarity".
The activists of End Deportations wrote in their Facebook page: "Even as we heard the Stansted 15 are not going to prison, 40 black men who'd committed minor offences during their lifetimes in the UK were on a plane where they'd been dragged in shackles back to where the slave-owners dictated that their ancestors should live."
"The Home Office enforces a regime of asylum & immigration application which is brutal, racist, colonial and violent. They use destitution as a political tool, detention for people who've committed no crimes or served time for them if they have, deportation into situations of danger and countries people have no connection to. They seek to strip people of their dignity for the offence of seeking to exercise freedom of movement whilst being black or brown. In many cases people fleeing the war or climate disaster or poverty we caused in their countries of origin through colonial exploitation. In all cases, human beings who deserve our welcome, compassion and respect.
We dream of a World Without Borders. Freedom of movement not just for Europeans & Westerners. Meanwhile, we call for the worst violence of the UK border regime to be stopped.
Business as usual at the Home Office means death and gross injustice & we need to stop them".