The hotspot of Moria, on the island of Lesbos. A year has passed since I was on Lesbos – a beautiful island, but a paradise that disguises a hell. With the support of Doctors without Borders, I was there to document the living conditions of the migrants who had arrived on this small strip of land opposite Turkey.
The hell on the island is the Moria refugee camp. A former military base, it has been converted into a reception and identification centre for the migrants who arrive here, on the northern shores of Lesbos, with dinghies and rafts from the Turkish coast. Around 6,000 people currently live in the camp, of which approximately 2,000 are minors.
I interviewed Alessandro Barberio, a psychiatrist from Trieste's Department of Mental Health. He has been on Lesbos since January 2018 with Doctors without Borders."What we are witnessing," says Alessandro, "is a collective trauma that will go down in history."This really is the case – in Moria we are seeing more and more cases of psychiatric illness. The people that arrive here bring with them stories of pain, abuse, torture, violence and hunger.  Already traumatised, conditions in the camp make the situation worse. There have been many cases of attempted suicide. A few months ago, some of these attempts were made by children.
It is not just the past that those in the camp bring with them, and which forced them to flee their own countries. They also have to contend with conditions in the camp itself. One toilet per 50 people, problems accessing first aid and the camp's other basic services (the queue to get food rations can last for hours), and the scant protection against the cold offered by the small tents all mean that surviving at Moria is no easy task. A few days ago, in the steep terrain of the olive grove next to the hotspot, the largest of those tents caught fire. You warm up however you can at Moria – burning plastic, pieces of wood, cardboard, paper. All of which can, naturally, cause fires to spread. In this case, fortunately, there were no victims. It could have been much worse given the presence in the tent of around 100 people, whose beds are separated by no more than a rough woolen cover which serves as a "curtain."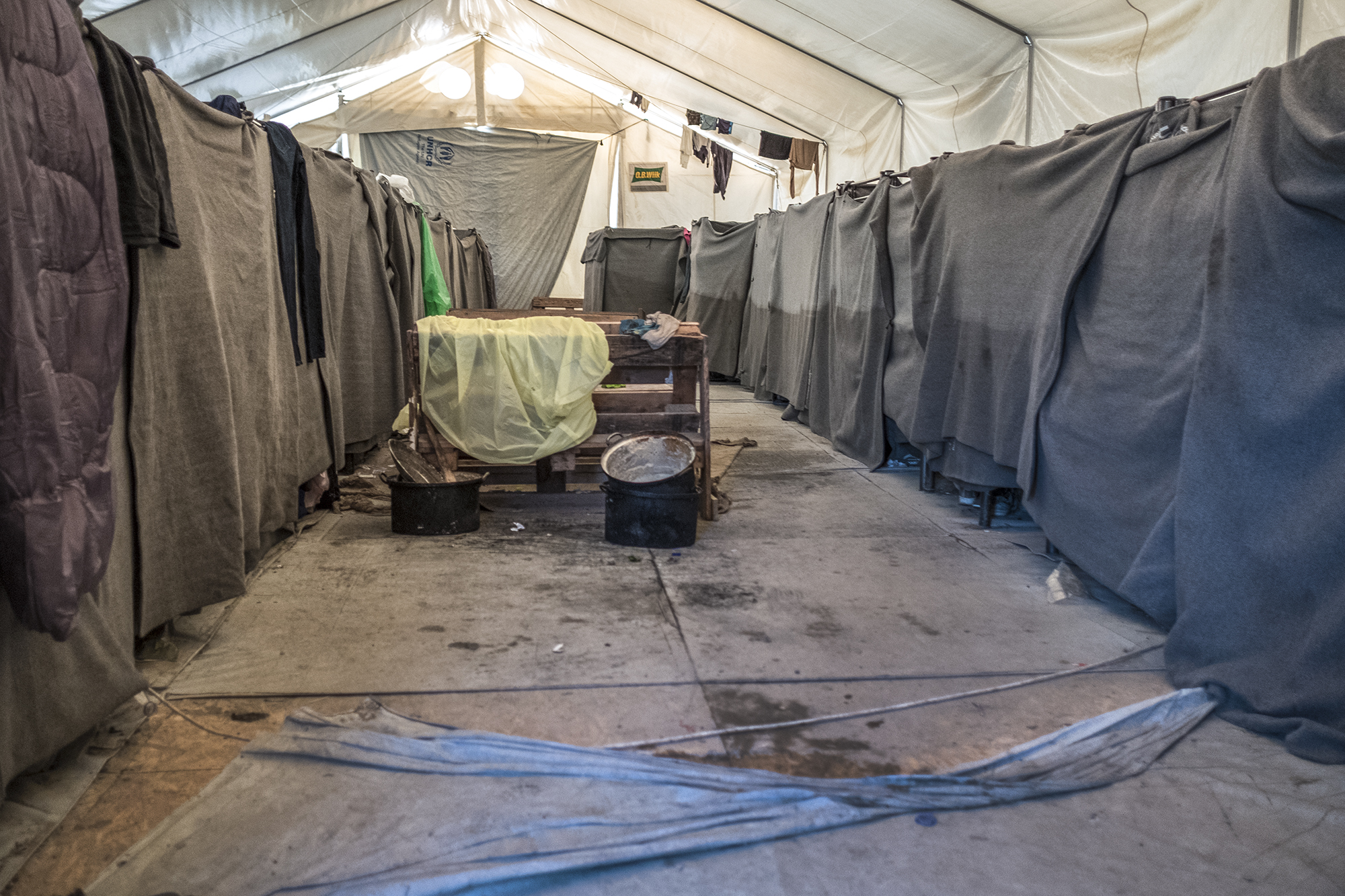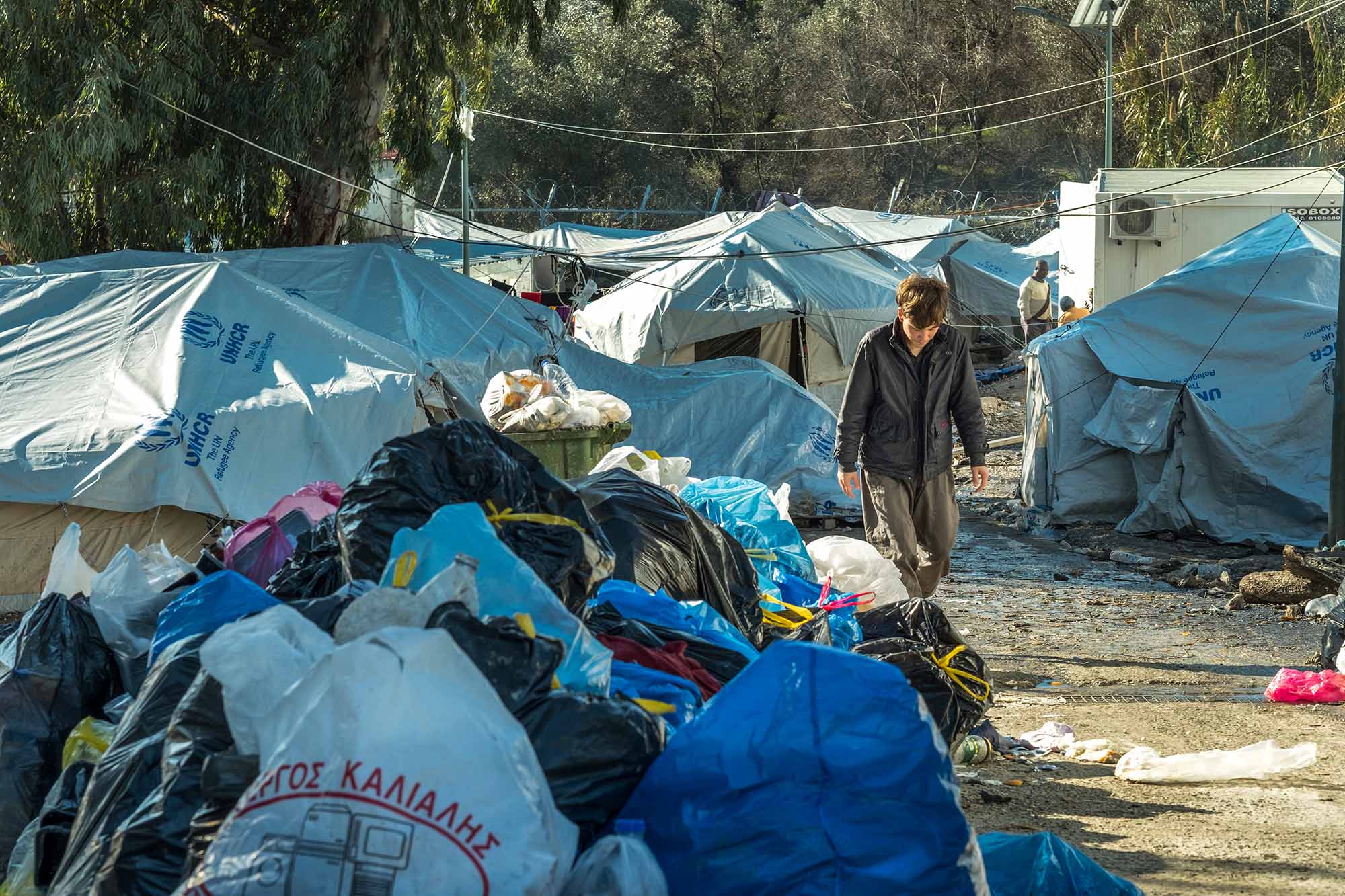 What do we mean when we talk about collective trauma, and what causes it? Symptoms that patients display include visual and auditory hallucinations, fear, distress, confusion, disorganisation, and temporal and spatial disorientation. Therapy can mitigate the symptoms, but it takes time before it begins to be effective – and time is in very short supply. Indeed, people are often moved to other centres (in Athens or the surrounding area, in Volvi, or Katsikas, near the Albanian border), in many cases with only a day's warning. This makes it difficult, if not impossible, to follow a course of therapy. Moving migrants from one centre to another does not solve the issue. Taking people elsewhere does not guarantee better legal or social assistance, but just sweeps the problem under the carpet. Hearings for asylum claims proceed with maddening slowness. Take the case of Parathi from Sri Lanka, known as "Maradona." He was held up at Moria for 24 months before his asylum claim was finally heard and he was transferred.
"At this rate," says Alessandro "the sense of mental instability will affect everyone and grow more widespread. As the numbers affected by depression, panic attacks, and psychoses grow, so too will social pressure, and the strain on a healthcare system that is already stretched to its limits. Doctors, nurses and care workers are finding it hard to address both the simple and complex needs of these people… if we go on like this, it will be extremely difficult to provide the right level of care and this will have an effect on medical staff themselves. We are witnessing a kind of numbing of people's senses: reactions including denial, refusal, racism, rejection and a lack of empathy are becoming more frequent.
"Moria is to all intents and purposes a limbo. Despite Doctors without Borders declaring a humanitarian crisis, there has been no reaction from the authorities.The charity Thth, which will be remaining throughout 2019, is attempting to create a support network with local groups and organising a joint operation with the hospital at Mytilene, the island's capital. All these actions however are no more than temporary solutions. Europe, which is founded on the respect of fundamental values such as democracy, the rule of law and human rights, has to take a firm position on the situation in Moria and on the other Greek islands. Meanwhile, winter on the island of Lesbos is particularly hard. Rain, wind and the bitter cold make survival difficult for the almost 6,000 people who wait to see what will become of them. A young boy died several days ago, possibly due to the cold weather. It is not just at sea that migrants are dying – they are also dying when safety seems close at hand. All this is happening now, here in the continent we live in. We can't close our eyes to what is taking place.
Photos taken from "THE THIN RED LINE," a project by Valentina Tamborra, in collaboration with Doctors without Borders.
Translation from Italian by Malcolm Gilmour