15 States Sue Trump Admin over Plans to End DACA Immigration Program
This post is also available in: Spanish, Italian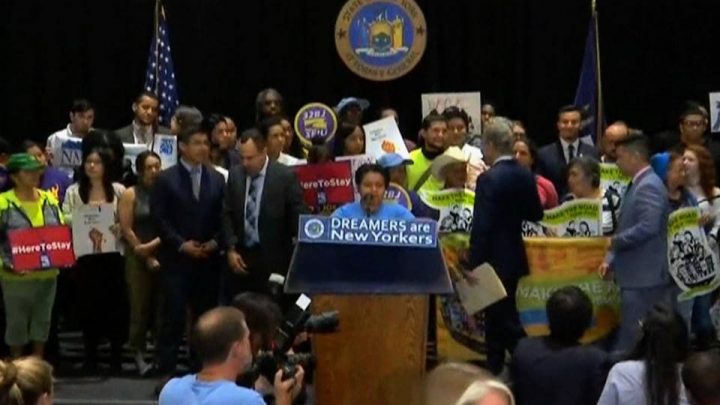 Fifteen states – New York, Massachusetts, Washington, Connecticut, Delaware, District of Columbia, Hawaii, Illinois, Iowa, New Mexico, North Carolina, Oregon, Pennsylvania, Rhode Island, Vermont e Virginia –  and the District of Columbia sued the federal government Wednesday seeking to block President Trump's plan to end DACA—the Deferred Action for Childhood Arrivals program, which gives nearly 800,000 young immigrants permission to live and work in the United States. Among those pressing the suit is New York Attorney General Eric Schneiderman.
Attorney General Eric Schneiderman: "We understand what's going on in Washington. And we know that when bullies step up, you have to step to them and step to them quickly. And that's what we're here to do today. … By definition, DREAMers play by the rules. DREAMers work hard. DREAMers pay taxes. For most, America is the only home they've ever known. They deserve to stay here."
Trump's cancellation of DACA, which was announced Tuesday by Attorney General Jeff Sessions, set off mass protests in cities around the U.S. In Washington, D.C., Wednesday, activists outside the Department of Justice building toppled a Confederate monument-style effigy of Jeff Sessions perched atop a cardboard pedestal labeled "Living Monument of White Supremacy."
The city of New York announced Tuesday it is deploying funding for legal services for DACA recipients across the city, following the Trump administration's decision to rescind the DACA program. In a message posted on Twitter, the office of Mayor Bill de Blasio said, "You are not alone. … If you face legal problems, we'll be right there with you."
In Boston, Mayor Marty Walsh also slammed President Trump for rescinding DACA. "I can say this honestly to the White House: We don't want you here in Boston. We don't want any part of you in Boston. We're doing perfectly fine without you. I think it's a sad statement that the president of the United States of America and the attorney general of the United States of America are sending messages out to so many good young people".