Dakota Access pipeline, the Water Protectors Call for Support
This post is also available in: Spanish, Italian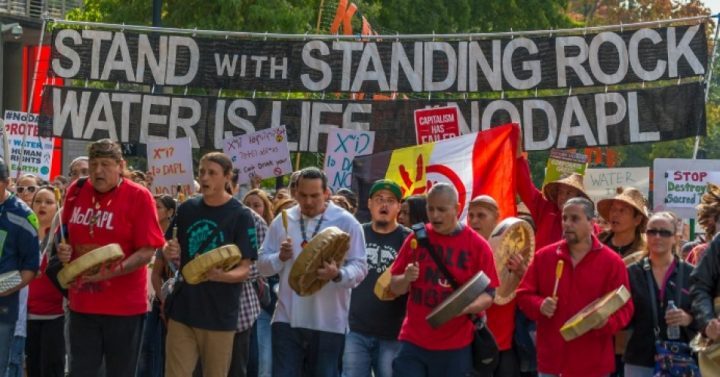 The Army Corps of Engineers appears poised to approve the final permit required to build the $3.8 billion Dakota Access pipeline. On Tuesday, North Dakota Senator John Hoeven said he had spoken with acting Secretary of the Army Robert Speer and that Speer has directed the Army Corps to issue the easement for Energy Transfer Partners, the company behind the pipeline, to drill underneath the Missouri River.
Water protectors say that if the easement is granted, the government would be illegally circumventing the process of an environmental impact statement, which was ordered in December under President Obama's administration. The Standing Rock Sioux Tribe said: "To abandon the EIS would amount to a wholly unexplained and arbitrary change based on the President's personal views and, potentially, personal investments."
Members of the resistance camp Sacred Stone on the Standing Rock Sioux Reservation in North Dakota have called to support the resistance to the Dakota Access pipeline. On Wednesday, February 1st, 76 protesters were arrested for trespassing while attempting to set up a new camp on historic Sioux treaty land, now owned by Energy Transfer Partners.
Last week, Veterans Stand announced plans to support the protesters camped out in North Dakota. Those efforts include a plan to quickly mobilize thousands of U.S. military veterans to return to Standing Rock after about 4,000 traveled there in December. "We are committed to the people of Standing Rock, we are committed to nonviolence, and we will do everything within our power to ensure that the environment and human life are respected. That pipeline will not get completed. Not on our watch," said Anthony Diggs, a spokesman for Veterans Stand, that raised $37,000 since launching a GoFundMe campaign last week.
A Seattle City Council committee has voted to divest $3 billion in city funds from Wells Fargo, amid concerns about Wells Fargo's investments in the pipeline. The full Seattle City Council will vote on the legislation Monday.
On February 2nd  the Spanish group Ecologistas en Acción, as part of the international campaign DeFundDAPL, plans to deliver to an office of Banco Bilbao Vizcaya Argentaria in the center of Madrid a manifesto with more than 500.000 signatures, to require the bank to withdraw from the consortium that finances the Dakota Access Pipeline project.
Sources: