First retrospective of the #CivilMarchForAleppo
This post is also available in: Spanish, French, Italian, German, Greek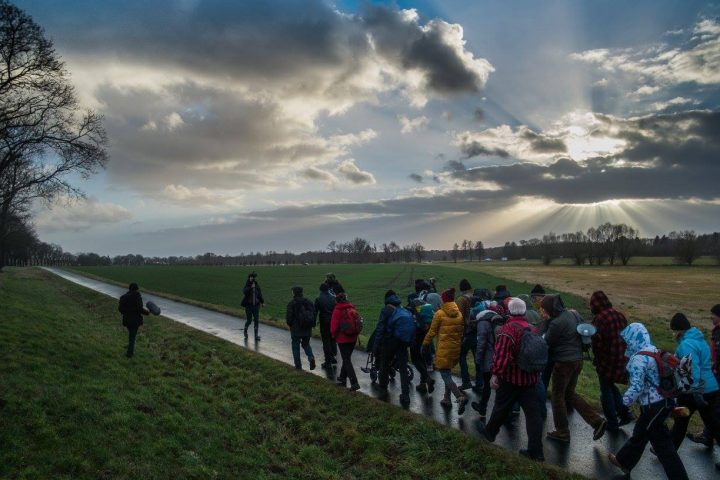 On the 8th day of their March through East Germany heading for Syria, the Civil March for Aleppo reflects: "We've had a very difficult and demanding week. Last night was going to be equally challenging: it was supposed to be a very cold night and we were mentally preparing to sleep outside for the first time since we left, while at the same time trying to emotionally prepare to face a Nazi demonstration we were informed would be taking place in the town we were arriving at (not the first one we've faced so far, unfortunately). We were anxious, tired and a bit scared – an awful mix of feelings.But then… instead of pitching our tents in a freezing football field, we were invited to sleep in a warm building. On the market square, instead of Nazis, we were greeted by a group of lovely Syrians who had been waiting for us. Instead of staying out in the cold, a church invited us inside, where our new Syrian friends had brought us an amazing dinner, afterwards inviting some of us into their homes."
The same time the March is confronted with fervent criticism by polarized groups of Syrians and Peace activists who are either for or against Putin/Assad or US/the West, respectively. They wonder why no symbols of either one are shown and no clear political position is taken. The March initiators had decided beforehand that they will not take any other position than the position of the suffering population and the need to end the violence. As symbols they used white flags but were equally criticised because these flags were supposed to be symbols of the Assad regime.
Also, the March is confronted with hate speech on the internet and on their way by right extremists and refugee-haters, however, the same time supported by a massive number of other people, as they describe above. In every town where they spent a night so far, they have been provided with shelter, food, and greeted by inhabitants, be it germans or refugees.
They further write on their facebook page:
"During our March we cannot _not_ think about the hundreds of thousands of refugees who were fleeing to Europe along those same roads we're marching on now.
We cannot _not_ think about the fact that they didn't have proper gear, sleeping equipment, warm hiking socks or a mobile kitchen to make hot tea. They didn't get invited into schools, didn't have a car with them in case of emergencies, didn't have their friends and family members smiling next to them.
We cannot _not_ think about the fact that they didn't come announced, positively publicised in the media, greeted by friendly people out in the open. They weren't welcomed on town squares, weren't given food, weren't singing songs with their new friends.
We cannot _not_ think about how much stress, sorrow, exhaustion and fear they had to deal with during their passage. They didn't have homes and jobs to go back to, couldn't come and go as they pleased, didn't feel the support of thousands of people from around the world."