Warka Water as appropriate technology for desert regions
This post is also available in: Spanish, Italian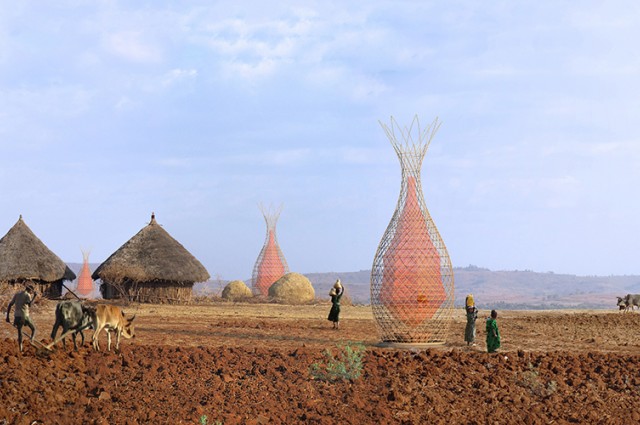 On March 18, 2016, Warka Water was announced as the winner of the International Council of Societies of Industrial Design (ICSID) World Design Impact Prize. Warka Water had been voted in as one of three finalists.
Arturo Vittori, from Italy, accepted the award on the night at WDC 2016 Design Gala in Taipei, Taiwan. Arturo Vittori is an Italian artist, architect, and industrial dsigner, co-founder and director of the architecture and design team Architecture and Vision.
The idea behind the Warka Water concept is to build towers that house a plastic mesh net. As the temperature falls during the night water condenses onto the net and rolls down to a reservoir at the bottom of the tower. The large surface area of the nets allows a sufficiency of water to collect under the desert-like conditions of the places where the structure is destined for us, one instance is Namibia. Mesh is used, rather than a solid surface, so that air can circulate, bringing in ever more water. The Warka Water tower is named after a fig tree native to Ethiopia, and depends for its success on the wide ranging temperature differences typical of deserts.
ICID awards the World Design Impact Prize biennally to an industrial design-driven project aiming to benefit society. More information about the prize may be found at: www.worlddesignimpact.org
Previously this year, in January, Warka Water was exhibited at the Colorado College I.D.E.A. (InterDisciplinary Experimental Arts) Hydrologic exhibit, with Arturo Vittori the Featured Artist in Residence. He delivered the keynote address at the opening event and led a workshop to construct a Warka Water tower with those in attendance.
The Hydrologic exhibition and events focussed on artists and architects, like Vittori, who are actively changing the landscape of water availability through art and design. The projects presented, like Warka Water, combine both science and art, function and form, to find creative new approaches to water scarcity around the world.
Earlier, in December 2015, the Warka Water team came back from a trip to India, where Warka Water 5.0 was planned to be installed at a new pilot site sometime in 2016.
More information on this award and its recognition can be found here: http://worlddesignimpact.org/