Portugal rejoices as anti-austerity left coalition forms to oust right wing
This post is also available in: Italian, Greek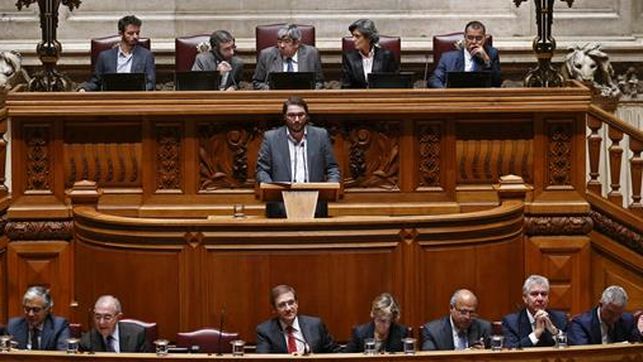 Socialists, Communists, and Left Bloc unite in 'unprecedented' coalition to end years of punishing cuts
In a surprising development for Europe's anti-austerity movement, Portugal's three reigning leftist parties on Tuesday formed an unexpected coalition to oust the country's center-right government from power and end years of punishing cuts and economic hardship.
The moderate Socialist Party forged what is being called "an unprecedented alliance" with the Communist Party and the radical Left Bloc—which is affiliated with Greece's Syriza party—to secure a 122-seat majority in the 230-seat Parliament and vote down a series of austerity proposals. The defeat brought the government's automatic resignation.
Socialist leader António Costa is now expected to become prime minister with "a broad, leftwing coalition government, which hopes to ease austerity while still adhering to European Union rules," the Guardian reports.
During last month's election, the center-right party lost its four-year parliamentary majority because of public backlash against punishing austerity measures imposed following the 2011 financial crisis and bailout. Under outgoing Prime Minister Pedro Passos Coehlo, the government cut salaries and pensions, slashed public services, and introduced significant tax hikes. In the beginning of this year, 55 percent of the population was either unemployed or held a precarious work situation.
Under the new agreement, the coalition pledges to roll back these cuts and end the privatization of public assets.
"The taboo has ended; the wall has been broken," Costa said Tuesday after the vote. "This is a new political framework; the old majority cannot pretend to be what it stopped being."
Outside the Parliament building in Lisbon, thousands of Portuguese citizens rallied in anticipation of the vote, chanting "People united will never be defeated."
Meanwhile, this enduring image from the vote was shared widely, including by Left Bloc leader Catarina Martins, as a symbol of the long-awaited victory.