Demonstrations against the European Central Bank in Athens and Thessaloniki
This post is also available in: Italian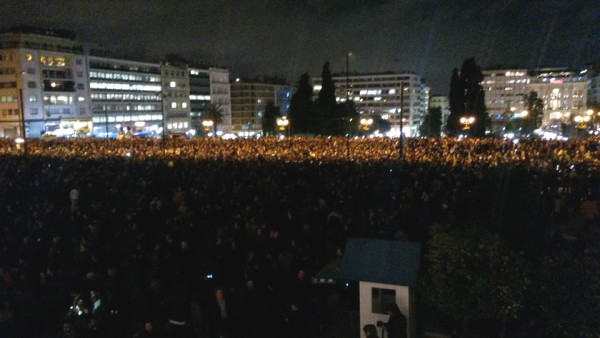 Marianella Kloka, activist with World without Wars and Violence describes the spontaneous demonstrations today in Athens and Thessaloniki against the strong response of the ECB to the proposals of the Greek Government.
The atmosphere is like the public demonstrations of three years ago.  All of this was put together in 4 hours.  Many people in Syntagma Square are outraged by the cruelty with which the ECB has responded to the visits and contacts by the Greek Government and their proposals.

Extortion doesn't work.  Today is the first exercise.  On the 15th (or before if the Euro group comes earlier) we are going to repeat it with more people of all ages and in the main squares of every big city in Greece.  This situation of social asphyxiation cannot continue either in Greece or in any other European country.  The system has failed and it's being clearly demonstrated day after day.  We are obliged to show it and change it.  Together with all the people of Europe!
The slogans of the demonstrations: