Moving towards the Centre: interview with Rafael Edwards
This post is also available in: Spanish, French, Italian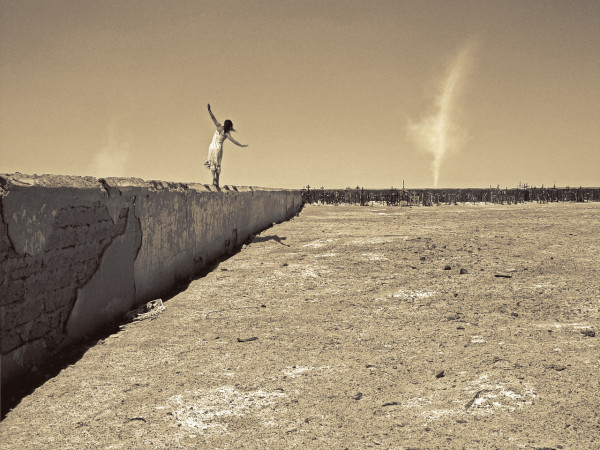 Rafael Edwards has been working through drawing, painting, modelling, photographing the world and matter from the standpoint of Universal Humanism since childhood. His career can be observed and summarised in:
His photos in: http://www.flickr.com/photos/rafa2010/collections/
I found "Rafa", as we usually call him, among friends in the virtual space where we frequently met since a long time ago, but I found him thinking about the real moments we shared, in Chile and Italy, over the last 30 years.
Rafa, your artistic and humanist life is related to the Principles of Valid Action, starting with some old black and white drawings; What is the relationship between you and the Principles?
The Principles (from the book of Silo's Message) have been my guide in life for a long time. Perhaps at the beginning they were more something close to "tips", and tried to apply them to the extent that I remembered them. Then I had some significant experience, and then another, of how this worked: One gains in freedom and begins to overcome suffering. And experience does not disappear. It's like learning to ride a bike, when you're not on the bike …. you still know. And above all, experience accumulates.
Many years ago I made some ink drawings, to allegorise these Principles, to see them on paper and so keep them in mind. Later those drawings were published in a calendar, and eventually other friends also have used them, I understand that for a similar purpose.
I can say with certainty that the principles have changed my life. Before them I was running after a mirage, the compensation of suffering, or something. Today I am getting closer to my "centre", and to a deep meaning of life, and these phrases have had much to do with opening those new paths.
So today I can also say with absolute certainty that if human beings were to take these Principles into account, the world would be different. We can change direction profoundly, living in peace, in harmony together. They are infinitely more transcendental and more powerful than any political or religious proposal. They are a gift from Silo, to whom  I'm infinitely grateful. Therefore I plan to broadcast them in every way possible, so that others can also take the opportunity to be grateful, and that's what I am doing and will be…
The eternal dilemma of the socially committed artist: the inspiration or the message? Both at the same time?
Until recently there was a dichotomy between the two. I felt I had to "make myself useful" to the cause and put my art its service. I set out to make images that illustrate the doctrine, humanism, on book covers, posters, political campaigns … and then I spent a dozen years photographing our activities, to bring our project to the world. Also I began to photograph daily life on the streets. I was always with a camera. I felt I could express my criticism of the world today, its contradictions, the absurd. It was an activity that attracted me, put me "in the world" and developing my social side, so to speak. But I could not do it with poetry.
Inspiration, where was it? Occasionally it appeared as an explosion of emotion when listening to a Bach's fugue, or watching a sunset of fiery skies, or in a significant dream. But it was a passive inspiration. Every so often I could feel these "signs" of something deeper, not knowing how to access it for myself. In 2000 we formed with some friends from different countries the group "Antoja" an art collective dedicated to exploring the inner world. That was very good, very interesting, exchanging, productions together, exploring and learning from others. Our look was to develop what we called "transferential art", an art that would lead to the positive transformation of the human being, as opposed to "cathartic art" that we saw as a trend of this epoch. But a few years later, with "Silo's Message" I began to integrate my art with a search for the profound, the sacred, also being able to translate into images such experiences. And that has to do not with the "doing" of art, but with the kind of experiences that emerge. Then I also remembered something Silo told me many years ago. With reference to art: "art is rather useless… but there has never been a civilization that could live without it", and as for my search he said "if you cultivate the void, your life will be transformed." These teachings presented as paradoxes have oriented much of my life. And now I'm trying to learn what is the relationship between art and the sacred, the "inspired consciousness."
Dichotomies: success and commitment, money and coherence, do you agree? What else?
It depends on how you define those things. Success can be understood as "fame", "prestige", money, etc… Or it may be "coherence", freedom, love. For me it is the latter. And if there is material comfort and a positive reception from others, well, those things may appear along the way, but they are not the way.
In practical terms, I try not to be successful with what I call "art". Then I feel quite free in this regard; freedom to be wrong, to play without getting results. My financial support comes from illustration, which is not art but a craft, working on it enough to live without problems, and the rest of the time I can devote myself to this art that is useless, unknown and as elusive as it is inspiring.
What is Rafa up to today? What else does he wish to explore?
I feel the axis of my life at this stage is the spiritual, every day trying to answer those big questions: "Who am I" and "where am I going"? In terms of activity and study, I'm in Silo's Message, with a community (Winged Lion) in Santiago de Chile, studying various subjects and as for art, with some timidity returning to painting and music, and exploring with some video production around the theme of "The Principles".