31 May 2023, Quezon City.  The toxics watchdog group EcoWaste Coalition is alerting consumers against the purchase and use of a brand of imported spray paint that contains high levels of lead, a hazardous chemical banned in the manufacture of paints.
The group issued the toxic alert following the chemical screening it conducted on yellow, green, and red colors of China-made Getsun Spray Paint Aerosol Lacquer, which it bought from an online seller for P118 per can.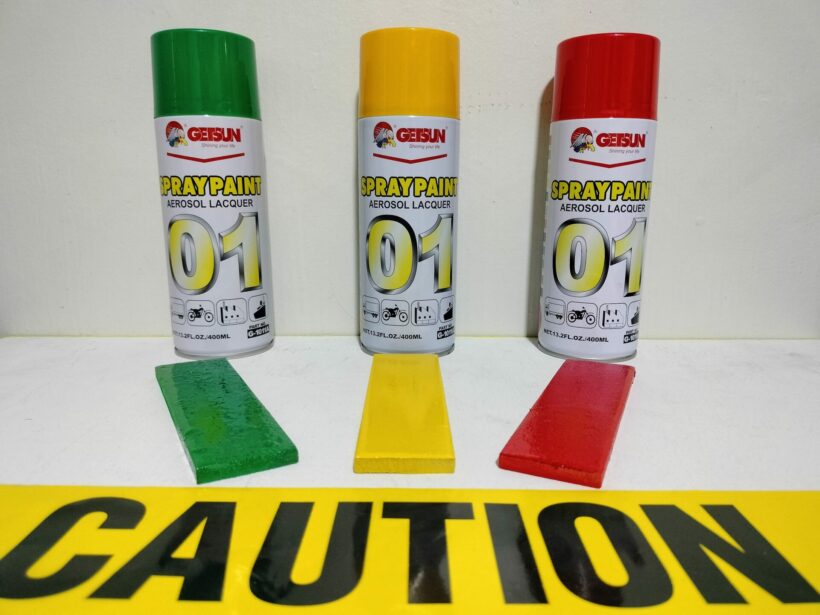 Based on the screening conducted by the group using an Olympus Vanta M Series  X-Ray Fluorescence (XRF) device, the yellow, green and red paints contain 42,110 parts per million (ppm), 14,320 ppm and 1,429 ppm lead, respectively, way above the regulatory standard.
The DENR-issued Chemical Control Order (CCO) regulating lead and its compounds provides for a maximum limit of 90 ppm for lead in all paints — the strictest regulatory standard for lead content in paints worldwide.
"As a precaution against potential lead exposure that is damaging to health, consumers are advised to steer clear of paint products containing lead additives," said Manny Calonzo of the EcoWaste Coalition.  "We also appeal to the authorities to tighten customs checks for paint imports.  Paint importers, distributors, and retailers, including online sellers, must ensure that all paints brought into the country and sold in physical stores or in online shopping platforms meet the 90 ppm regulatory limit for lead content in paints," he said.
"Lead is a non-threshold toxicant, especially in young children.  Exposure to any amount of lead causes lifelong irreversible impacts on children's brains.  It's despicable to see its continued use on spray paints, which are used to spruce up school projects and artworks, household furniture and fixtures, appliances, play equipment, and toys, thereby unnecessarily exposing children to lead-containing paints," said Jeiel Guarino, Global Lead Paint Elimination Campaigner, International Pollutants Elimination Network (IPEN).  "In the past decade, safer alternatives to lead have become widely available for all types of paints, including spray paints, so there are no humane reasons for manufacturers to continue using lead-based raw materials."
According to the labeling information, Getsun Spray Paint is manufactured in Guangdong, China, and is recommended for use on a wide range of surfaces, including glass, metal, plastic, porcelain, wood, and other materials.
As indicated on the bottom of the paint can, the green paint was produced in 2022, the yellow paint in 2021, and the red paint in 2020, or way past the phase-out deadlines for lead-containing decorative paints in 2016 and lead-containing industrial paints in 2019 as per the CCO.
All three Getsun paints provided no information about their lead content to assist consumers in making informed purchasing decisions, the EcoWaste Coalition noted.  The label also provided no lead hazard warning.
Aside from Getsun Spray Paint, the EcoWaste Coalition slammed the continued sale in online shopping platforms of other spray paint brands with one or more color variants containing lead such as Best Drive, Colorz, F1, Haifei, King Sfon, Koby, Korona, MKT, Silvestre, Standard, and Yandy, which are among the dozens of lead-containing products discovered by the EcoWaste Coalition during their regular market monitoring since 2020.
Across the globe, lead paint remains one of the most widespread sources of childhood lead exposure since the phase-out of leaded petroleum.  As explained by the Global Alliance to Eliminate Lead Paint: "As lead paint ages, the paint starts to decay, fragmenting into flakes and dust that contaminate the indoor and outdoor environment. Paint flakes and contaminated dust are readily swallowed by young children who typically play on the ground and frequently put their hands to their mouths."
"Lead exposure in early childhood can result in reduced school performance, intelligence quotient (IQ), attention deficit disorder and increased behavioral problems," the alliance said, adding "lead exposure can also cause hypertension, renal impairment, immunotoxicity and toxicity to the reproductive organs."
"Non-stop compliance monitoring is required in order to uphold the national ban on lead-containing paints and protect the Filipino people, especially the children, women and workers, from the harms resulting from exposure to lead-containing paint chips, dust and soil," the EcoWaste Coalition concluded.  "We ask the authorities to actively monitor compliance to the lead paint regulation and duly call out and penalize the violators."
—————————————————————————————————————————
References:
https://chemical.emb.gov.ph/wp-content/uploads/2017/03/DAO-2013-24-CCO-Lead.pdf
https://www.unep.org/explore-topics/chemicals-waste/what-we-do/emerging-issues/global-alliance-eliminate-lead-paint/faq