For more than 70 days, every time I was about to leave my house on my way to work, my stomach started to hurt, and I felt a strong pressure in my chest that didn't let me breathe. I was living in a constant state of anxiety. I changed the way I dressed, black dominated, it was the only colour that represented what I felt in my heart during those days. I stopped wearing high heels and even make-up. "The mood is not for such banalities", I told myself many times while looking at myself in the mirror. The dark circles under my eyes were getting greener and greener, the weight loss due to the difficulty in eating was evident. In spite of everything, I never hesitated for a minute to continue attending my work every day, I was the journalist at Centro Arte Alameda (CAA) in the midst of the Chilean Social Outbreak of 2019.
By Denisse Leigthon
Today I find myself making a compilation of what happened there, I have talked to many of the protagonists of this story and every time I approach a new story, I re-experience the terror we lived through and at the same time the great gesture of humanity that we fostered, which undoubtedly had an emotional cost.
When I decided to dedicate myself to work in culture I imagined beautiful moments around creativity, I never thought I would have to live with tear gas smoke, bullets flying everywhere, much less with wounded people in the central hall of a cultural centre.
Every day we met in the morning to start the day. We had decided to keep the cultural centre and cinema open for the community, despite living through one of the most complex moments of social crisis in Chile since the Pinochet dictatorship.
Demonstrations and clashes between civilians and police began at 17:00 hrs outside our place of work. Energy drinks were our main food at that time, we had to stay alert and active in case we had an emergency. The management of the space had arranged for a large number of extra fire extinguishers to be delivered to us, as we feared a fire might break out. Tear gas was bouncing off the roof like winter hail.
All the administrative work was done in the mornings because it was difficult to concentrate in the afternoons. Maria de los Angeles, a graphic designer at CAA, says: "Working during the blast was complex, emotions had a big influence. Being there knowing what was going on outside, it didn't allow me to think or concentrate. Seeing the dynamics in the street, the clashes… you could feel the hatred, the pitched battles every day. It was devastating, painful to the heart, there was a terrible hatred between those who were fighting".
After several conversations, the joint work team committed to protecting CAA by deciding to open the space, both for film screenings and cultural activities, and for the care of those injured in the surrounding clashes.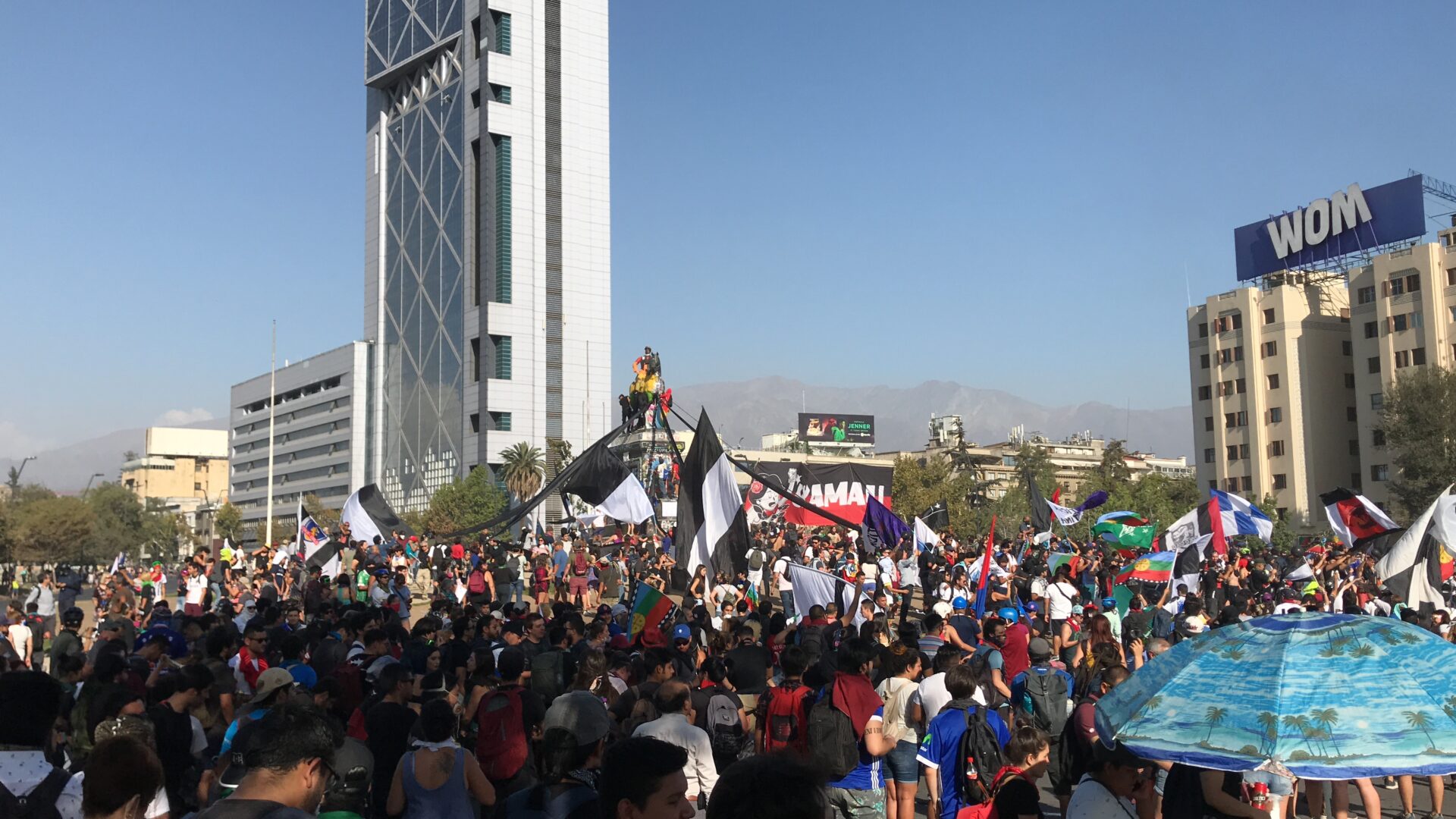 Photo Denisse Leigthon
This is when SAMU (Servicio de Atención Médica de Urgencia) volunteers arrive and set up in the foyer of the cultural space. As the days went by, the CAA workers and the health volunteers became part of the same cause, we became a family. We often gave each other encouragement and affection when the fighting on the outskirts became heated. Every evening we would organise ourselves and activate the protocol. In general, the men in the team would go up to the roof every time a tear gas canister spilled out, we had to be quick and efficient to put it out. On the other hand, those in charge of caring for the wounded set up their work in advance. There were tables and boxes full of medical supplies, masks, dozens of IV bags and a defibrillator (an electronic medical device to treat cardiorespiratory arrest).
Catalina (CAA's producer) always arrived early and received donations every day from anonymous people, generally neighbours of the sector. "During the three months we worked there, there was something that particularly marked me. When we were a collection centre, I received many neighbours and people of different ages. They would come at 10 a.m. to leave us medical supplies, alcohol, gauze, bandages, things that the SAMU people asked for. But they also brought snacks, chocolates, milk, biscuits, to revive people in case of fainting, for example. That was very nice, it made me very emotional.
I received a lot of support from the neighbours. As a team we started to organise ourselves, without having any experience, after a few days everyone had their own gas mask. We had a protocol, pots and cans of water in every corner to extinguish tear gas that the police threw on the roof and even inside the building through the front.
Edith, a health volunteer who was treating the wounded in the CAA foyer, recalls: "When I left my work at La Posta Central in the days after the social explosion, I saw that the streets were full of wounded. We started gathering supplies and going out on the streets to see how we could help. Then we went on strike, when we had been there for a week, I was marching along the Alameda and I met one of my colleagues, Juan Carlos, at the Alameda Art Centre. He told me that this was a place where the public could be attended safely.
He invited us in and we kind of took over the place. We gathered a lot of supplies and also helped other brigades with food. It was a dichotomy, people watching films and us attending to the seriously wounded. Sometimes we would leave at 1am, most of the time the AAC workers had to wait for us until we finished tidying up. From Monday to Monday, I would finish my official work and go to the cinema".
While all this was going on, CAA's programme schedule was being transformed organically so that the content shown was consistent with what was happening in the suburbs and across the country. It was our way of giving back and even of educating and remembering how we got to this point in Chile's history.
Martín Castillo, director of programming at CAA, comments on how the billboard was constructed: "When I was putting together the programming I was thinking about the social rights that I saw on the posters of the demonstrators. All these issues had been talked about in Chilean cinema for a long time, even our film productions are internationally recognised for talking about things that were not resolved here. Many of us thought that Chile always swept its problems under the carpet and that's how we got to this moment.
Everyone started to pay attention to Centro Arte Alameda because our film editorial line always talked about social issues. I think that when people started to realise that Chile was not as perfect as we thought we represented more than other spaces. Many of the films we showed began to have a new meaning, like Perro Bomba and Mala Junta, among others. I felt we were doing something unique.
And although the content represented the recent history of our country, the reality outweighed the fiction. Personally, I was always interested in themes with social content that recounted passages of Chilean society during the dictatorship. I cried with those stories. I imagined what I would have done if I had lived in such a situation. I never imagined what would happen in 2019.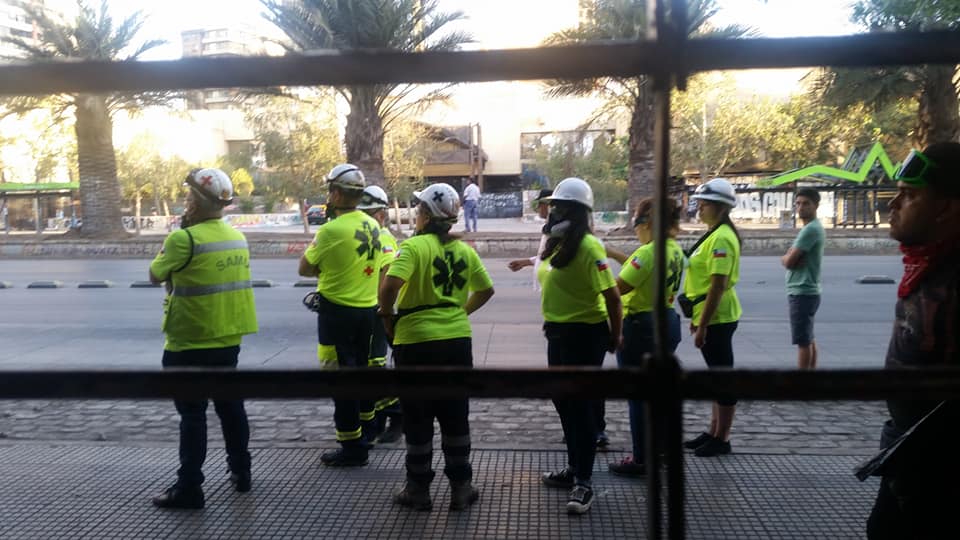 Photo Denisse Leigthon
I remember two very specific events that moved me. One afternoon of extreme violence, with fighting that went on and on, I entered the Central Hall of AAC, which was full of seriously injured people, several eye traumas, broken bones, stretchers scattered all over the place, wounded people in hysterics and the floor full of blood. I had never seen anything like it in my life, only in the movies. Almost instinctively, with my hands, I covered my ears and closed my eyes. The noise of the carbines firing tear gas, the screams of the demonstrators, the sirens of the ambulances did not stop. I felt I couldn't escape. But I had to be strong, there were people suffering much more than me in that place. I don't know how, but I pulled myself together. When I opened my eyes, I saw the cleaning lady in the middle of this horrible scene. She was silent, in the midst of wounded people moaning in pain. She was moving the mop slowly, spreading the thick blood, while looking at a horizon that did not exist. Immediately I noticed she was in shock, I approached her, took her by the arm and told her there was no need for her to clean up for now. She started to cry. We hugged and I felt that at least in that small moment she was safe. Maybe we both felt it.
Another of the strongest memories I lived through during the three months of resistance was one afternoon when I was at the front door. Being the person in charge of that place, even for a few minutes, guaranteed the worst experiences as I was facing the street where everything was happening. It was the most exposed point. Without further ado, I heard shouts for space to move forward, the health volunteers were shouting that they had a seriously injured person, to open the access. So I did. With difficulty they passed through the small gate in the grille where they had to duck their heads to avoid hitting each other. On an orange folding canvas stretcher they brought a young man who was carefully placed next to me. His legs were swollen and his face was changing colour from green to purple. I was terrified, I thought I was going to die. I tried to swallow my tears. Everyone started to ask for space, the foyer was full of wounded. A doctor started to check him and asked for an ambulance to be called immediately, his situation was too serious, they couldn't treat him in that condition.
People began to crowd the entrance to ask for information about his state of health. Everything was in chaos. I was crying silently, leaning against the fence, angry at my weakness. In a matter of minutes, the ambulance arrived, the paramedics acted with haste.
Among the health volunteers they moved him onto the wheeled stretcher that had been taken out of the ambulance, just in time a woman from his family arrived, shouting for them to let her see him. They removed it from CAA and took him to Posta Central. I asked to be relieved, my legs were shivering. I had to sit down for a few minutes. When I pulled myself together a bit, I opened Instagram and the first thing that appeared in my feed was an extract of a video from a television channel that had shown live how two "Tango Romeos", better known in Chile as "Zorrillos" (a police car that expels tear gas), had crushed a young man in the middle of Plaza Italia, the nerve centre of the clashes. I immediately knew it was the young man who was fighting to stay alive a few minutes ago next to me, his name was Oscar Pérez Cortez. Today, three years after these experiences, I am still haunted by the memories of those days.
I recently met again with Edith, a health volunteer, and she told me that Oscar at that time "had many fractures and was very unbalanced. If we didn't take an x-ray, we had no way of knowing which bones were broken, or if a rib was crushing his lung. Fortunately, he didn't die, he was saved from death.
I also spoke with Pedro, who was the CAA ticket agent at the time, and he told me about one of the experiences that marked him, "on one occasion a man was sitting alone in the Central Hall and Special Forces police came in to arrest him with great violence. I told them that it was not possible for them to enter the establishment and arrest the cinema audience. I stressed that this was private property and that they could not enter without a warrant. One of them shouted at me "shut up you fucking communist, I'm going to shoot you". I was shocked by his threat and they finally took him away.
And so, the days went by, some more terrible than others, some calmer than usual. It was impossible to know what would happen after, although we had a feeling it would.
When I met Edith, memories stirred in my mind. She told me that over the years several journalists had contacted her to tell her story, "I didn't want to. But I have wanted to tell you. I owe you. I always said that you would have to be very clear socially and politically to give up your source of work, because there were many people there who depended on a salary. You had to have a very strong social sense and you did it, I feel very proud to have known you, and I felt very sad when CAA was burnt down. This place left a mark on me, because I felt that there were people who were willing to leave their comfort zone to help others. I had work, but you knew that as time went on, sooner or later something had to happen. Carabineros de Chile and the state were not going to stay quiet. It is conviction, there are many people who have been wounded forever.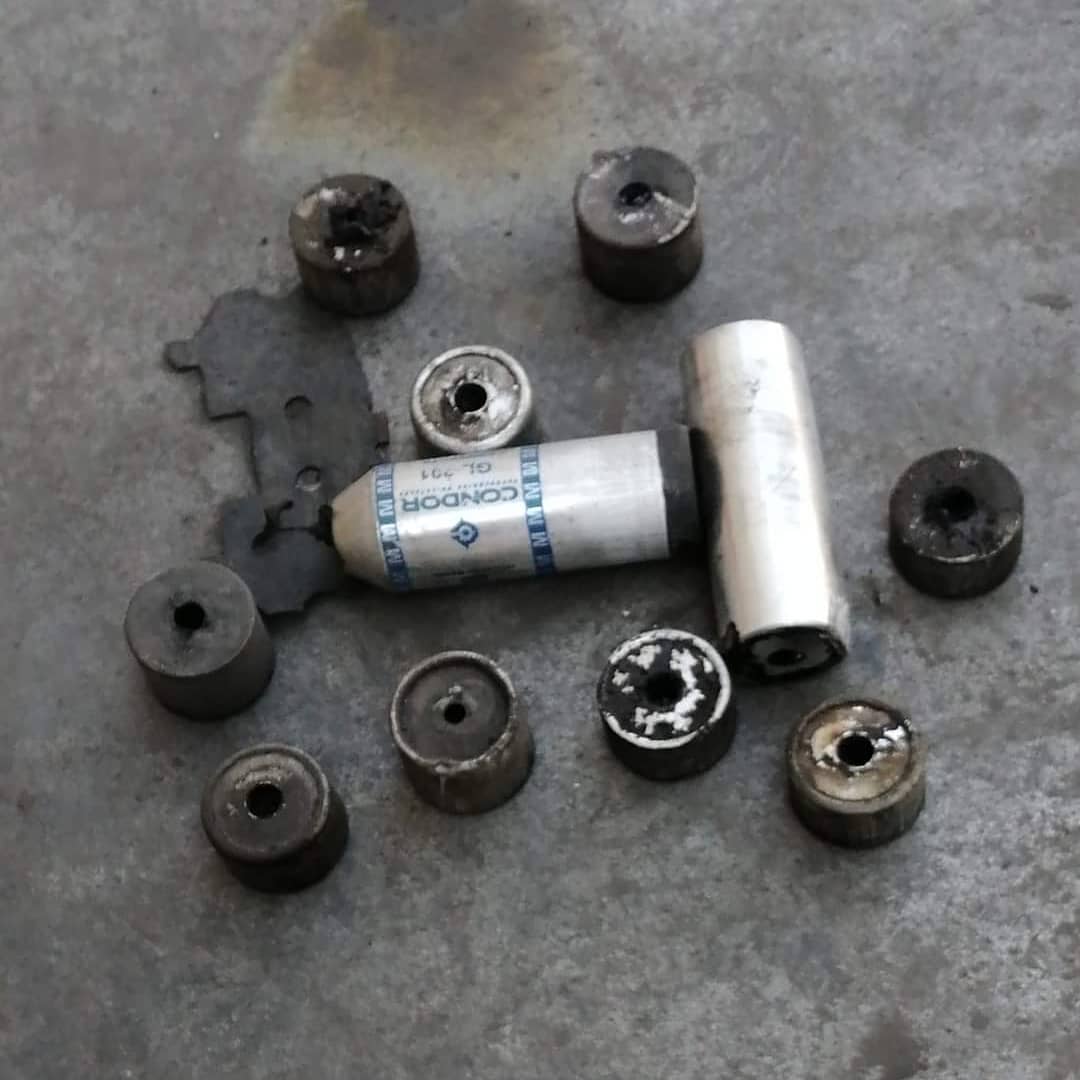 Photo Denisse Leigthon
Link to CNN report https://www.cnnchile.com/cultura/centro-arte-alameda-estallido-social-voluntarios-samu_20191125/