On August 25, 2022, the Milagros LGU Municipal Planning and Development Officer (MPDO) Jessica F. Madrilejos, with other LGU personnel were deployed to conduct the last day of geo-tagging activities at Guinluthangan Island (formerly named Puro). The team members were Neil Apawan & Ma. Florymae Andaya (IT Officers), Ernest Aguirre (Statistician), Rosanna Maristela (MPDO staff), Jose Lester Burdeos & Denmark Arriesgado (MDRRMO staff), and Darcy Rances (Admin. Office). They started the geo-tagging activities last July 4 in Barangay Pamangpangon and culminated last August 25, 2022, in Barangay Guinluthangan. They geo-tagged building structures, grazing land, worship and assembly places, health facilities, potable water sources, aquatic resources, and economic areas, among others in all the barangays of Milagros for the Climate and Disaster Risk Assessment.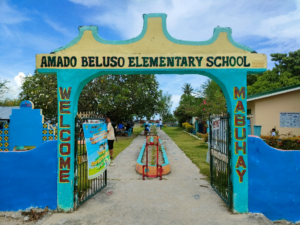 The elementary school was named after the late barangay captain Amado Beluso, a native of Roxas City, who bought the island in 1935 from its previous owner.
The objective is to ascertain apprised geographical and census information of geo-tagged structures like the school, chapel, health-care facility, water source, assembly area, grazing land, economic areas, and boundaries.
The gathered data will be utilized to develop and enhance Milagros LGU's efforts in championing its services and sustainable development.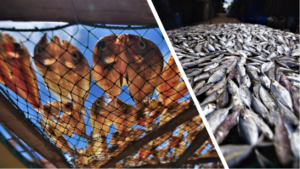 Salting and natural sun-drying are techniques to dry up the fish traded as a source of livelihood. The dried fish industry provides employment for most of the residents. Photo credit: Katrina Bayaban.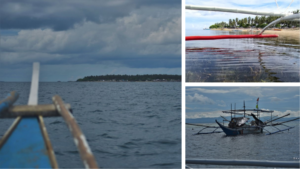 L: Guinlutangan Island surrounded by the Asid Gulf. Upper R: Seaweed farming. Kappaphycus is one of the century-old important aquaculture commodities. Photo credits: Katrina Bayaban.
On the same day that the LGU personnel was geo-tagging, the Grupo Kalinangan Inc. (GKI) cultural mappers Katrina Bayaban, Mikhaela Cao, Dr. Genevieve Balance Kupang, and project lead Dan Ignico Pronton conducted the first phase of cultural mapping (Scoping and Negotiation Phase). They were commissioned by Milagros LGU to document, educate and empower the stakeholders to manage their cultural heritage resources effectively through innovative IT-enabled solutions, platforms, and services.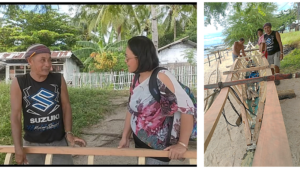 Blessed are the hands that built wooden bangkas (sailing vessels). Genevieve Balance Kupang (R) interviews Rosalito Mahusay (L), a 67-year-old master builder. For 45 years, he reveals that he makes use of the Lauan lumber from Samar as frame design, side panels, chines, inwales, transom, stem, center rib, and seat rails for boats. The two other men contracted him to build the boat. Photo credits: Dan Ignico Pronton
Guinluthangan is in the eastern part of Milagros municipality, an island barangay within the municipalities of Milagros and Cawayan. It is approximately 12 miles from the town proper. Traversing the Asid Gulf, it takes an hour to reach the island. It has a land area of 365, 241 square meters. The population is 731 residing in 158 households. It is divided into seven puroks led by seven public school teachers, a teacher-in-charge, and one permanent Day Care Center teacher.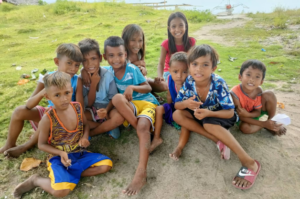 Interacting and seeing the lovely smiles and innocence of these children bring delight and bliss.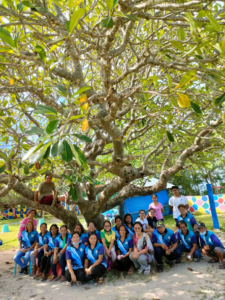 Posing for posterity by some Milagros geo-taggers, Guinluthangan servant-leaders, and GKI cultural mapper: Seated L to R: Barangay captain Ruth Beluso, health workers, and tanods. Standing L Jessica Madrilejos with LGU personnel and GKI Genevieve Kupang.
The term Guinluthangan is an Ilongo vernacular derived from 'guinluthang,' meaning the place where gun-shooting happened during the Japanese regime in the Philippines. Despite this misnomer, nowadays, the settlers who live on the island say that the place is generally peaceful, charming, and clean. The residents are kind, hospitable, God-fearing, and gracious.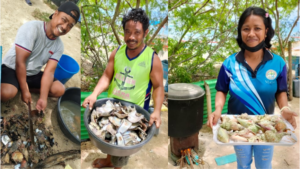 Protein-rich seafood recipes (steamed and grilled) were offered to us by the generous islanders. Photo credits: Genevieve B. Kupang and Katrina Bayaban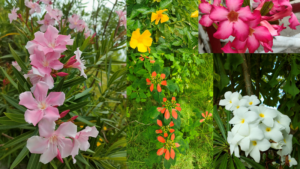 Varieties of alluring flowers and other ornamental plants thrive well on the island. The residents cooperate with each other in planting and taking care of the beautification and cleanliness of Guinluthangan.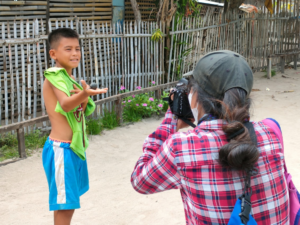 GKI cultural mapper Katrina Bayaban takes an image of the boy and his traditional trompo (spinning top). Photo credit: Genevieve B. Kupang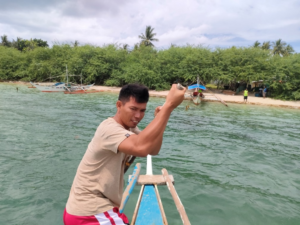 Traversing the Asid Gulf, the local bangkero (boatman) transported the group from the town proper to Guinluthangan Island. Photo credit: GBK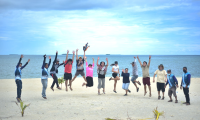 Light moments ensued after the work was done. Tanods Juancho Olidan, Roel Labastida, Reneben Halang, & Rolanda Olidan take a pose with the LGU personnel Jessica Madrilejos, Denmark Arriesgado, Lester Burdeos, Ma. Florymae Andaya, Rosanna Maristela, Darcy Rances, Neil Apawan, and GKI Dan Ignico Pronton & Genevieve Balance Kupang .
The succeeding phases of the cultural mapping activities will be pursued in the coming weeks for all barangays of Milagros.
To conclude, the GKI team would like to thank the Municipal Mayor Hon. Natividad Revil-Magbalon, M.D., and the LGU stakeholders and personnel especially the Municipal Planning and Development Officer Jessica F. Madrilejos, MPD Personnel and Tourism Designate Carmen Baylon Cortes for the warm welcome and orientation about the municipality. Infinite gratitude, too, is extended to Mr. and Mrs. Bobby and Joy Rosero for the benevolence that afforded the GKI team comfortable and warm accommodation in their lovely home in Barangay Bacolod.
---
About the Author: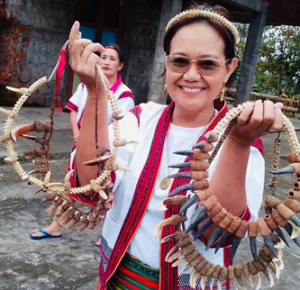 Genevieve Balance Kupang (Genie) is an anthropologist, consultant, researcher, and advisor to individuals and organizations engaged in working for good governance, genuine leadership, justice, integrity of creation, peace, the indigenous peoples, preservation of cultures, and societal transformation processes. She is a peace educator, author, interreligious dialogue practitioner, and resource person with a career in the academe and NGO.