By Perfecto Caparas
Beijing must not be allowed to unjustly enrich itself – at the expense of the Philippine sovereign and independent nation – without any measure of accountability and justice.
Political actions
Manila's political and congressional leaders must assert that Beijing comply with The Hague's final and legally binding arbitral award In the Matter of the South China Sea Arbitration case.(1)
Diplomatic, political and economic measures need to be undertaken to resist Beijing's brazen acts of trampling upon Manila's sovereignty.
Without waiving even an iota of her sovereign rights and jurisdiction over the West Philippine Sea, Manila – among other measures – needs to officially and firmly demand that Beijing leave and pay economic compensation to the Philippines for stealthily and unlawfully appropriating, for Chinese benefit, parts of Manila's EEZ, particularly in the Spratly Islands region.
Without abdicating her sovereign EEZ rights and jurisdiction involving Chinese-held reefs, Manila must also demand that Beijing compensates the country based on the overall, continuing, and long-term impact – both direct and indirect – upon the Philippines of China's illegal appropriation for itself of all the maritime resources within Manila's EEZ.
Denial of access
The Philippine government can base its official demand for economic compensation from China upon – among other factors – the denial of access and deprivation of the full economic benefit, enjoyment, and use by the Filipino people of their own marine wealth, including fish, as well as other living and non-living resources, within those maritime zones. This, beginning from the time China began illegally occupying and taking over those 4 reefs decades ago.
Expert assessment
Manila needs expert assessments of the immediate, medium-, and long-term deleterious and harmful impact – both direct and indirect – of Beijing's continuing denial of her access to at least 4 Chinese-occupied reefs within Manila's 200-nm exclusive economic zone (EEZ).
According to Alexander Vuving, these Chinese-controlled reefs include:
Mischief Reef (Meiji Jiao (美济礁)); Panganiban);
Johnson Reef (Chigua Jiao (赤瓜礁); Johnson Reef South; Mabini);
McKennan Reef (Ximen Jiao (西门礁); together with Hughes Reef, known as Chigua Reef); and
Hughes Reef (Dongmen Jiao (东门礁); together with McKennan Reef known as Chigua Reef)
Based on the economic benefit that should otherwise accrue in her favor, Manila must now, and in the future, demand economic compensation from Beijing insofar as the latter has usurped and continues to usurp those economic benefits from Manila. Those benefits emanate from the latter's own marine resources, including those found in her sea, seabed, and subsoil.
Direct and indirect impact
Both the direct and indirect impact of Beijing's occupation of those reefs upon Manila's enjoyment of her sovereign rights and jurisdiction over her 200-nm EEZ needs to be factored in assessing and demanding that China compensates her for Chinese encroachment into Manila's EEZ. This is because, in doing so, Beijing effectively usurped and unlawfully appropriated for itself all the economic resources within Manila's own exclusive economic zone.
As the arbitral tribunal has ruled, Beijing also violated Manila's sovereign rights and jurisdiction over the latter's own EEZ.
Manila's authority over Chinese-held reefs
In advancing this lawful demand under UNCLOS (2) and the arbitral award, Manila needs to firmly assert her own inherent regulatory power and authority over those Chinese-held reefs. This is pursuant to Philippine sovereign rights and jurisdiction over her own EEZ.
Since these illegal Chinese reclamations are within her EEZ, Manila has jurisdiction and the sovereign right to oversee, monitor, and regulate all of China's economic and economic impact-generating activities involving the marine resources found within the sea, seabed, and subsoil of Philippine maritime zones.
Rent and damages
Pursuant to its Art 56 (1) EEZ rights under UNCLOS, Manila must set conditions upon China over the duration and terms of its complete and effective control and use – factoring in their direct and indirect prejudicial impact on Philippine economic rights – of Manila's EEZ, particularly in the Mischief Reef area.
Such condition-setting is legally justifiable by virtue of Manila's sovereign rights and jurisdiction over her EEZ, in accordance with UNCLOS.
Both Beijing and Manila ratified UNCLOS. (3)
Leave
It is high time that Manila demands that Beijing leave and pay economic compensation over its unauthorized and illegal appropriation and use of Philippine reefs and their surrounding areas within Manila's own EEZ. Such compensation must include payment of rent and damages.
Manila must also file suits against Beijing-backed companies responsible for such actions.
This will help prevent China from further barring access to, and depriving Filipinos of their exclusive maritime resources.
This must be peacefully pursued for the generations of Filipinos to come.
Global outcry
This will be an important first step in politically standing up to China and demanding its respect and fulfillment of its legally binding obligations under UNCLOS and the final arbitral award.
ASEAN and the rest of the global community also need to peacefully assert The Hague's arbitral award and the supremacy of UNCLOS as the law of the seas.
The world community must all stand up against China and collectively demand its immediate, unconditional, and full respect for the rule of law.
References:
(1) The South China Sea Arbitration. https://www.pcacases.com/pcadocs/PH-CN%20-%2020160712%20-%20Award.pdf
(2)United Nations Convention on the Law of the Sea of 10 December 1982
Overview and full text: https://www.un.org/depts/los/convention_agreements/convention_overview_convention.htm
(3) List of countries/states that have signed, ratified or acceded to the Convention, which does not purport to exclude or modify the legal effect of the provisions of the Convention. https://www.un.org/depts/los/convention_agreements/convention_declarations.htm
---
About Perfecto Caparas.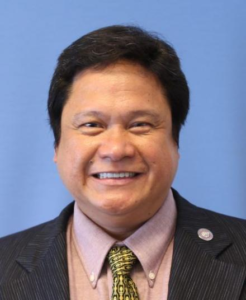 Writes regularly for Pressenza and Pinoy Publiko. He served as a journalist of The Manila Times, Ang Pahayagang Malaya, The Philippine Post, Pinoy Gazette, UCANews, and ISYU Newsmagazine. He is a licensed attorney and lifetime member of the Integrated Bar of the Philippines.