VISUAL ARTS/INTERVIEW
One of the most vibrant, a must-visit, places in Seoul is Insadong, an ideal area for short-term visitors to experience a little of Korea in the heart of Seoul. For me, it's not just a place to go for shopping or relaxing in cafes. It's a dedicated time to visit, as many as possible, galleries of contemporary and traditional visual arts all in one area. Gallery LAMER is one of the blessings that is ideally located in Insadong and regularly hosts various art shows. Korean visual artist Byun, Hae Jung had her third solo exhibition from March 31- April 5 2021 at the gallery and brought her magical still-life artworks to the public. In spite of the fact that we are very much affected by the global pandemic, she says that the COVID-19 pandemic could be a good opportunity for her to express more love in her painting and to share love, comfort, and hope with others.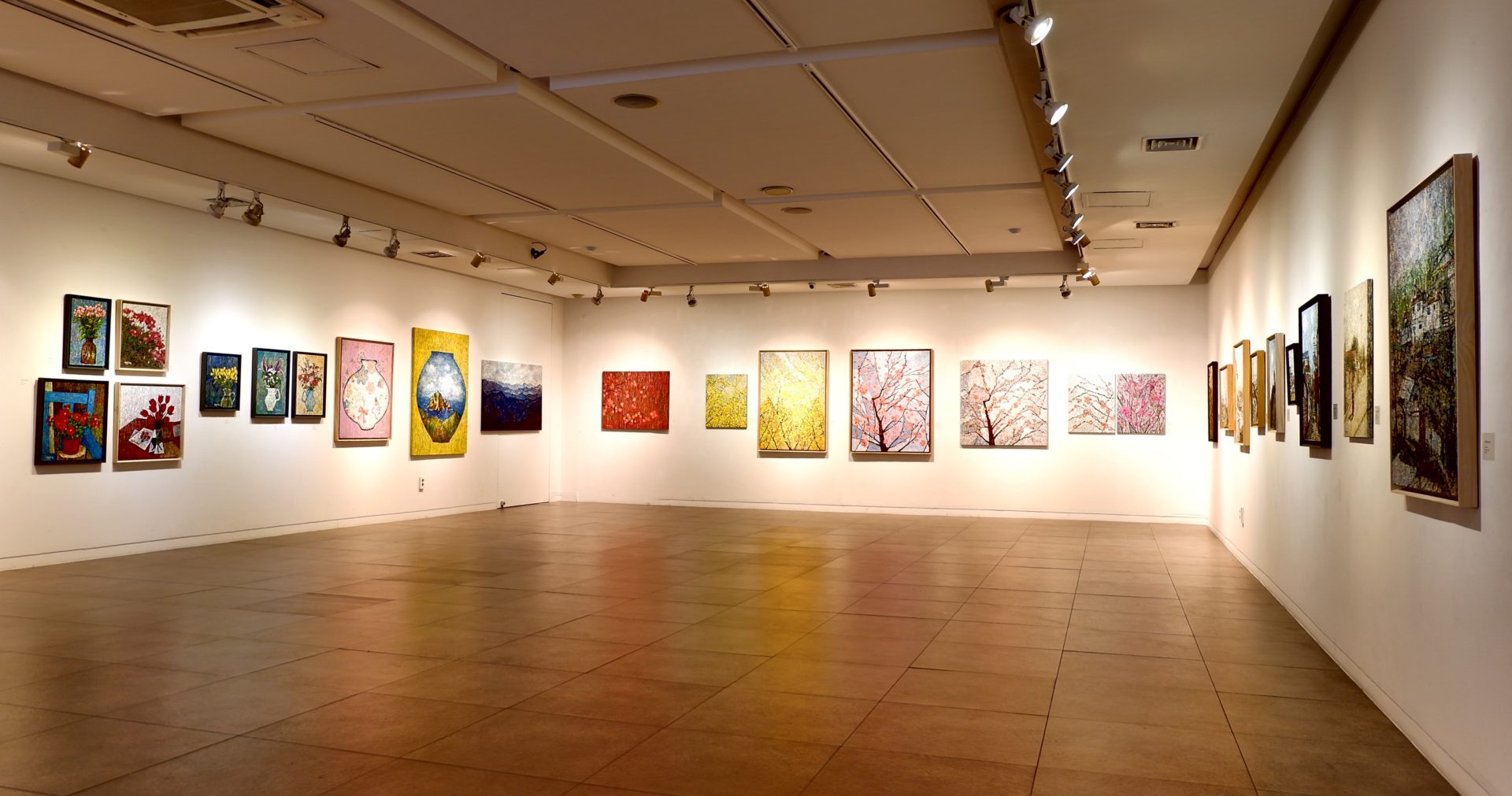 I was glad to visit her solo exhibition and to have a conversation to know her thoughts.
Bereket: Could you please share the motivation of your artworks? It can be based on your inclination, upbringing, education and lifestyle?
​Byun Hae Jung: For me, painting is like my prayers. Sometimes I ask myself why I am drawing. It's not easy to find an answer, but I found that drawing my paintings allowed me to be who I really am while it made me happy. After that, I no longer questioned why I draw paintings. Every day I draw a sketch to record and look back at my day. That is my drawing diary. And these sketches inspired my paintings.
​Bereket: When was your first exhibition? How long have you been making paintings?
​ Byun Hae Jung: I studied painting at Ewha Woman's University in 1982-1985 and I worked as an illustrator for a wide variety of books. About 10 years ago, I started my painting works that resulted in recent exhibitions. My first solo exhibition was 3 years ago in 2018, and I am currently on my 3rd one.
​Bereket: Do you have personal experiences with the places and objects you depict in your paintings?
​Byun Hae Jung: When I see a remarkable scene on the street, I go back and take it into my heart. But I don't start working right away. I wait until I process and digest the picture in my heart. When I think it's time, I start working. One of my favorite things to paint is the trumpet creeper, a beautiful flower, and that is a happy work. It looks like a festival because the cheering people in a big stadium and a flowing trumpet creeper look the same. Like this, my work can be seen as the realization of the pictures taken in my heart from my daily life.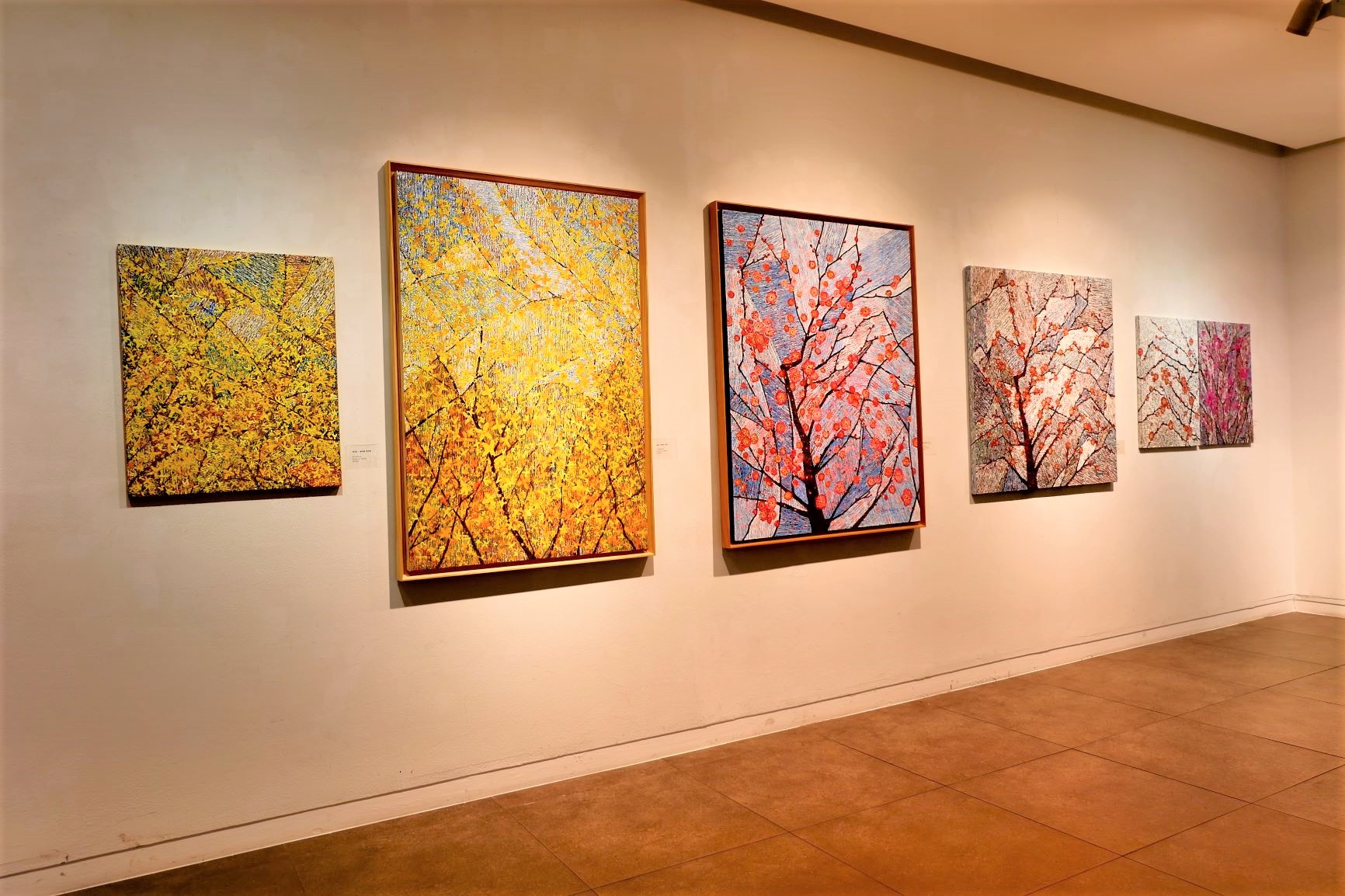 ​Bereket: You have said in your artist statement in the monthly Art Guide Magazine that painting represents the language and gestures of the artist. In this particular sense, what are you telling to the world through your painting?
​Byun Hae Jung: I think it shows my prayers. My paintings created stitch by stitch are both a prayer for the happiness of my family and a prayer for the world where we live. I wish we are all happy together.
​Bereket: It was so beautiful to see your works in terms of intense beauty, strong colors, still-life representation of subjects and objects. Some say it's quite similar to East Asian art and artists are very much inclined to depict natural surroundings– familiar landscapes, mountains, trees and flowers and seasons… as a Korean artist, do you think you're influenced in any way they claim?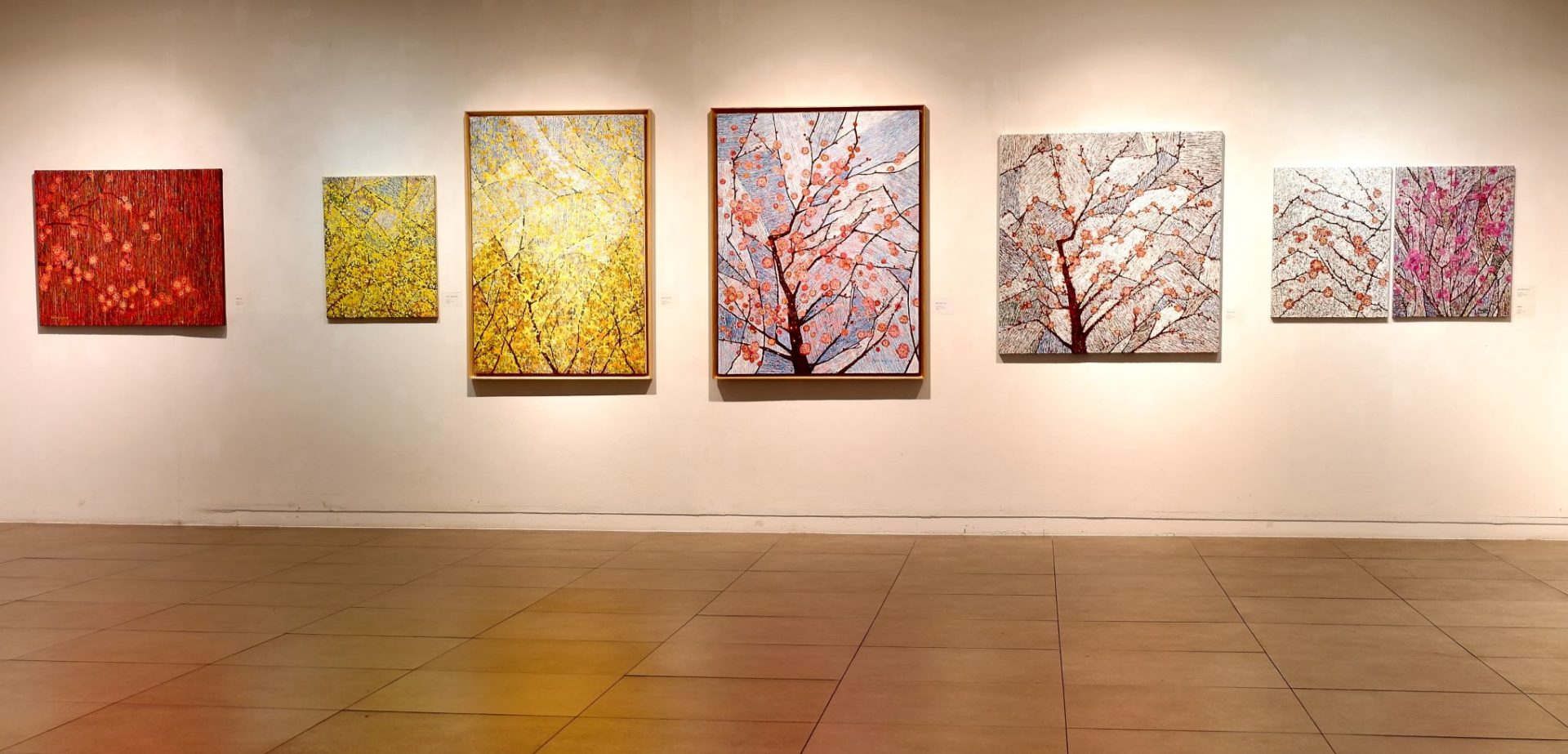 ​Byun Hae Jung: Korea's nature is exceptionally beautiful and wonderful. Beauty that is plain, calm, and elegant is what Korea looks like. The climate is clearly distinctive for all four seasons. It is a place where you can enjoy various natural beauties. Soft spring flowers and beautiful summer flowers are enough conditions to make Korean artists draw flowers, so many artists enjoy painting flowers. I also want to heal myself by drawing flowers and give the audience a chance to heal.
​Bereket: It is assumed that proximity and togetherness is the way how artists and their audience might enjoy the creative works. However, we are affected by the pandemic globally. How does the pandemic affect your artistic personality and your art life? Has it motivated you to express your feelings in any way artistically?
​Byun Hae Jung: As the Covid 19 pandemic has been prolonged, free meetings and active exhibitions have disappeared from our daily lives and everyone is getting tired. As artists spend longer time in their workrooms, their workload has increased, but it is also an opportunity to find out what is really precious. As I realize that what I had enjoyed and previously took for granted was precious, I thought that it could be a good opportunity to express more love in my painting and share love, comfort, and hope with others.
​Bereket: Anything if you like to add, please tell me.
​​Byun Hae JungMy work is drawing like embroidery. The feeling of the stitch is expressed not only with a needle but also with a brush and various tools. There are beautiful embroideries of both East and West. I think that the minds of those who embroider will be similar no matter where they are, so I expect that everyone can relate to my work. A long time ago, I think that the heart of my ancestors who wished for the well-being of my family was expressed by embroidery. I share the same heart, and that is what I express in my work.