Union Minister Pratap Chandra Sarangi writes to Niti Ayog to consider Demands of Satyagraha
This post is also available in: Italian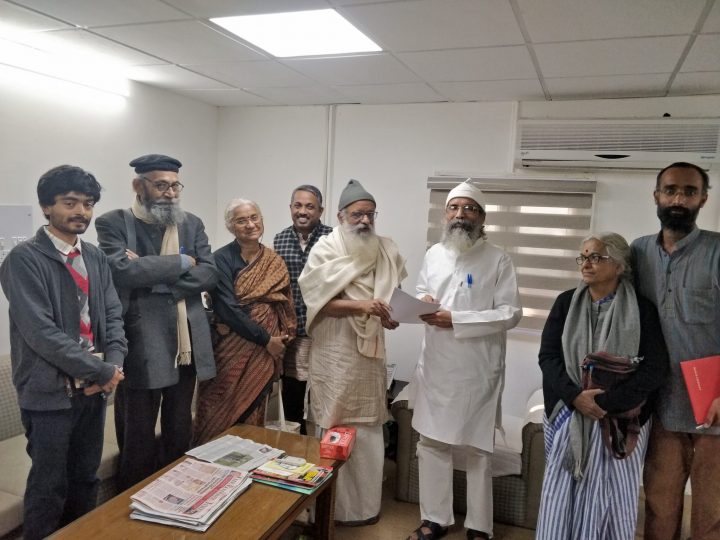 Press Release
By Abhilash.C.A, Secretary, Gram Seva Sangh
The Minister of State, MSME, Pratap Chandra Sarangi has instructed the Niti Ayog Vice Chairman Dr. Rajiv Kumar on December 21, 2019 to look into the demands of the Satyagraha for Sacred Economy spearheaded by Gram Seva Sangh. In his letter, the Minister acknowledged that the delegation flagged certain fundamental issues regarding our economic policies involving multiple sectors.
On December 6, 2019, the Union Minister invited the Gram Seva Sangh delegation to Delhi to discuss the Satyagraha's demands following the promise given by Union Minister D.V.Sadananda Gowda in October to Gram Seva Sangh activist Prasanna while he was on an indefinite hunger Satyagraha at Bengaluru. In addition to Prasanna and Secretary Abhilash from Gram Seva Sangh, the delegation included well known activists Medha Patkar, Sunil Sahasrabudhey, Prasanna, Chitraji, K V Biju, and Manjari Nirula from across India.
The delegation informed the minister that since the Sacred Economic sectors comprise 90 to 93% of India's population (hand-making plus small scale sectors with less than forty percent of automation), the budget allocations to these sectors must be made in proportion to the people employed by them in order to effectively address the current economic crisis. The delegation placed a demand for speedy action on the matter within a month, failing which the Satyagraha will be intensified.
Gram Seva Sangh is currently expanding the Satyagraha for sacred economy into various districts in Karnataka. On Jan 3, 2020, we have organized a convention on Sacred Economy at Raichur, to be followed by several other district conventions. Presently, we await a suitable response from the Niti Ayog and look forward to meetings with senior ministers of Finance, Industries and MSME.
Flat #102, Shesha Nivas, 1st Block, 1st Main,
Thyagarajanagar, Bengaluru-560028
Facebook.com/graamasevasangha | @gramasevasangha
Backgrounder and Footnotes:
Satyagraha  or truth force, is a particular form of nonviolent resistance or civil resistance. Not the same as passive resistance, resisting non-violently is considered the summit of bravery. The term satyagraha was coined and developed by Mahatma Gandhi.
The NITI Aayog is Hindi for Policy Commission, an abbreviation for National Institution for Transforming India, a policy think tank of the Government of India, whose aim is to achieve sustainable development goals with cooperative federalism by fostering the involvement of the State Governments of India in the economic policy-making process using a bottom-up approach.
Sacred Economy refers to a system of production that utilizes a minimum of sixty percent labor and sixty percent local raw material. It also means less than forty percent use of automation and less than forty percent use of imported raw material. Sacred sector refers to the hand-making sector plus the small sectors (less than forty percent automation) belonging to the automatic machine sector.The hand-making sector covers Khadi and village industries sector as defined by J.C. Kumarappa and Gandhiji, farm sector as defined by the Swaminanthan Committee,and handloom and handicraft sector, under the Ministry of Textiles.
Hand-making has also been called Informal Economy (IE). According to the Gram Seva Sangh…
"We believe it is an insult to call it that. Our farmer's weavers and crafts people were not only a skilled lot but a highly organized lot. They, for example, exported their products, after doing elaborate value addition, all through history. They earned large amounts of wealth, till the British came and forcibly took over our economy.
Be that as it may, Informal Economy (IE) represents 90 to 93 percent of Indian population. If we exclude the tip of the IE pyramid, consisting of professionals such as lawyers, doctors and other consultants, and include the under belly of the so called organized sector, (such as small vendors, small traders, small service providers, small manufacturers, machine shops that use less than forty percent automation) we get what we have called the sacred sector of economy. The sacred sector covers a staggering ninety percent of the Indian population. This large productive force has, unfortunately, been neglected by successive Indian Governments.
Nothing seems to reach the sacred sector. Job reservations do not reach them. Economic reform, introduced during the last two and half decades, does not reach them. Entrepreneurship is almost completely and quite deliberately extinguished from it. Cooperative as a system of production was destroyed systematically. Probably the only exception to this sad plight of the sector is the introduction of MGNREGA.
Doles are given to this sector. Free provisions, free education, free health care,  etc. But doles either do not reach them or are being withdrawn systematically through reduction in budgetary allocation. No wonder Indian economy is collapsing. 
We agree that freebies are not an answer to our economic ills. Structural reforms need to be undertaken on a war footing in the sacred sector. But instead successive governments have adopted a policy of appeasement of, what we call, the monster economy. We are trying to revive the dying monster. Monster economy is monstrous both in its size and nature. It kills jobs. Now, it is killing itself. We should let the monster die its natural death.
Sacred sector does not mean merely the village economy. We do realize we have moved a long distance away from the village and village industry. We do realize that humanity has become addicted to automation and that de-addiction process has to be a gradual process. That is why we have a suggested formula, as the ratio of human labor to automation. Sacred sector is village sector plus small urban sector, hand-making sector plus a limited use of automation.
We want the implementation of sacred economy not as a top down exercise but as a genuine exercise leading towards complete sacredness in the economy. Let us not forget that labor is sacred according to the tenets of the saintly traditions of India.
Sacred Economy, we do not need to tell you, can solve all the three gigantic problems facing humanity today; Economic collapse, Environmental degradation and Social strife."
Source: https://gramsevasangh.org/category/reports/