Long Live The Women! Women From Latin America And The World Rally To Put A Stop To Violence
This post is also available in: Spanish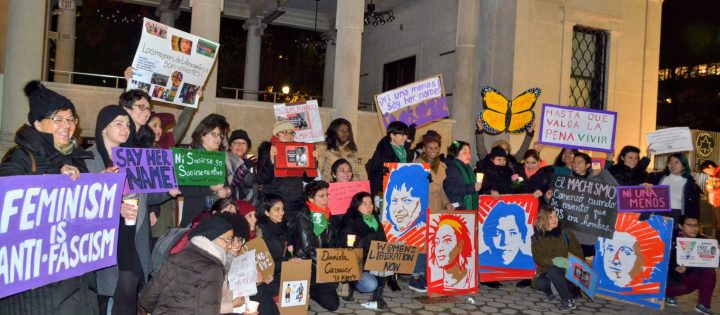 Reportage and photos by Gustavo Espinoza, translated by Jhon Sánchez.
In Union Square, The New York Women's Strike, Puerto Rican Women, Women of Resistance in Brazil, Assembly of Chileans in New York, organizations for the abolition of prisons, leaders for migrant justice and many others gathered to end physical, sexual, psychological, political, economic, social, cultural violence and all forms of discrimination against women.
The following are excerpts of the speeches during the protest.
"Throughout the Latin American continent, women protectors of land, water, life, collective rights, the environment, and leftist activist figures are being targeted for the work they do; the murders of Bertha Cáceres and Margarita Murillo in Honduras, Cristina Batista in Colombia, Juana Raymundo in Guatemala, Mariele Franco in Brazil, to name a few; the list is innumerable…"

"November 25, in addition to March 8, is one of the most important days of action for the Latin American feminist movement. In 1981, [Leaders] gathered at the first Latin American and Caribbean feminist meeting in Colombia, named November 25 as the International Day for the Elimination of Violence against Women, in honor of the Mirabal sisters, activists assassinated by the Dominican dictatorship on November 25, 1960."

"Although political and physical violence is less common in the United States, the working class, black women, women of color, transgender women and undocumented migrant women continue to be illegally surveilled, mistreated and imprisoned."
We must highlight the collective of Chilean women because they decried the violence against women during the mobilizations that have been going on for more than a month in Chile. They paid tribute, singing "Volver a Los diecisiete" by Violeta Parra and "El Derecho a Vivir en Paz" by Víctor Jara.