Addressing the crisis brought about by right-wing policies in India
This post is also available in: Italian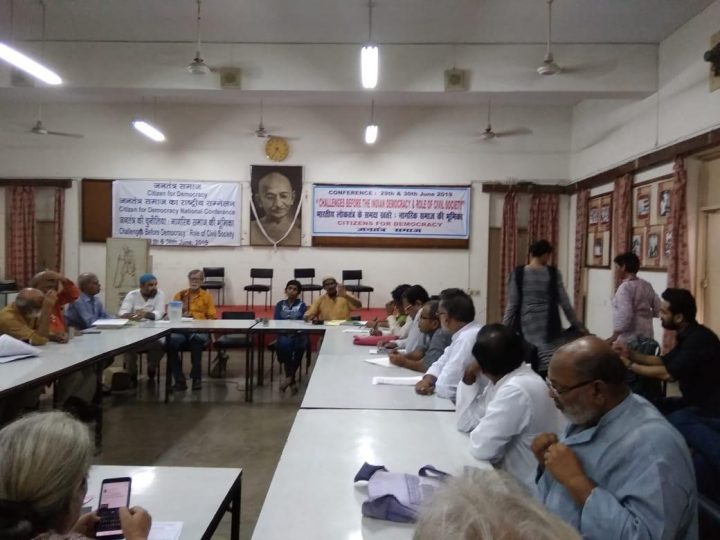 By Inamul Hasan
After the last general elections in India, right-wing forces came into power, garnering 70% of the vote which gave them the majority of seats. Almost immediately, this generated a wider crisis in every field, leading the poor people to suffer even further. Due to pro-corporate and anti-environmental policies, unemployment, non-accountability, attacks on the voices of dissent, serial murders on religious and caste-based minorities against promoting a right-wing ideology, partiality in providing education, the crushing of democratic institutions are some of the effects of rightwing policies.
To face this widening and inhuman crisis which is sweeping across the country, the senior Revolutionary Gandhian and Socialist Activists, who were part of Jayaprakash Narayanan which led the Total Revolution Movement during the 1970s and 80s against Ms. Indira Gandhi Rule, organized a 2 day National Level Consultation in the Gandhi Peace Foundation, New Delhi. The consultation was held under the platform of "CITIZENS FOR DEMOCRACY", to find ways of dealing with the ongoing nationwide crisis.
Presenting their views during the two-day consultation held last June 29 and 30, were eminent social activists, Gandhians and journalists like Heeremath, Manimala, Mahadev Vidrohi, Faisal Khan, Suresh Khairnar, who are working on serious issues such as Challenging Corruption, Communal and Caste-based Violence, Violation of Natural Resources, and the Protection of the Voices of Justice and Democracy,
Inamul Hasan, representing the Khudai Khidmatgar organization, made a presentation on the topic of Education, Youth and Employment, the Crisis and its Challenges. The discussion focused on how the rural population is excluded from getting a higher education. Due to the existing unequal and partial education system, a large population of the youth in India suffers a lot, facing competition in getting education and employment. Since there is a lack of opportunities, there is polarization which leads to violence and clashes in society. To arrest such worsening conditions in society and to protect the young generation, Inamul Hasan stressed the importance of and the need to concentrate on providing quality education which should be equally available to all. It is imperative to convince the youth with actual programs and improvements in the quality of education, giving them hope and confidence, inspiring them with constructive activities.
It was decided that the Khudai Khidmatgar organization will organize two different dialogues with the youth, with the objective of protecting the right of citizens to enjoy the Democratic rights. Two dialogues will be held, one with the youth from urban areas and another with the youth living in rural areas, to outline a clear image of connecting with people from the grass root level.