Children Seeking Refuge Will Be Imprisoned at Fort Sill in July
This post is also available in: Spanish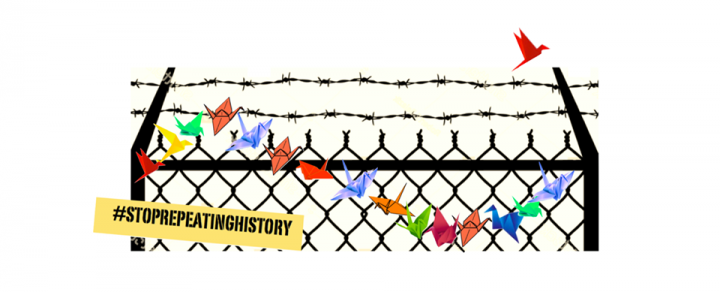 A Call To Action:
We cannot stand by when 1400 more asylum-seeking children from our southern border are going to be imprisoned at Fort Sill in July of 2019.
This is the place where over 700 people of Japanese ancestry (immigrants and citizens) were imprisoned during WWII and one immigrant was shot and killed.
It is the place where Apache people were forcibly relocated to and imprisoned.
It is the place where indigenous children from numerous tribes were brought to boarding school after being stripped away from their families and where the government attempted to erase their identity and culture.
Now, children seeking refuge at our southern border will be imprisoned at Fort Sill in July.
The U.S. is creating concentration camps for children.
This cannot continue. We must stop it. And we must act immediately.
We are going to Fort Sill.
Join us.
We need to stand up for these children. Who else will?
We're bringing thousands of Tsuru for Solidarity.
Protest: SATURDAY, JUNE 22, 2019 11:00 AM- 1 PM
Gather in front of: Hampton Inn & Suites Lawton 2610 NW Cache Rd. Lawton, OK.
We will March together about 8 blocks to a protest site near Fort Sill. Bring your protest signs and tsuru.
Travel: Fly into Lawton-Fort Sill Regional Airport (LAW).
15 minute UBER/LYFT ride to Hampton Inn & Suites. Many low cost hotels nearby in addition to Hampton Inn and Suites where we will be staying.
Pack an overnight bag and SHOW UP! We'll be happy to see YOU!
We are: "Tsuru for Solidarity" at Fort Sill
Satsuki Ina, Mike Ishii, Nancy Ukai, Chizu Omori, Kiyoshi Ina, Emiko Omori, Leslie Ishii, Lauren Sumida, Linda Morris.
Densho at Fort. Sill: Tom Ikeda
ACLU of Oklahoma
National Detention Watch
Tell us if you're coming.
Contact: Satsuki Ina (if urgent/necessary) 916-947-5194, Mike Ishii: 646.729-7722 or email.
Look to our Facebook page: @TsuruForSolidarity for details and updates.
We will be bringing tsuru/paper cranes that we hung at the Dilley, TX protest on March 30th!
Feel free to bring securely strung tsuru. And if you can't join us this time, feel free to send donations to help with our out-of-pocket expenses: "Satsuki Ina", 533 66thSt., Oakland, CA 94609
More demonstrations are planned in cities across the U.S. on June 29th. Check our facebook page for updates.
See you in Oklahoma!