"Whoever you are, wherever you are, we need you now to stand outside your parliament or local government office to let them know that we demand climate action." These words, pronounced by Greta Thunberg on December 12, 2018, changed my life.  Greta is the sixteen-year-old Swedish activist who has made headlines and captured the hearts of people of all ages around the world who are fed up with the lack of climate action on the part of world leaders.
I had been following Greta with increasing interest for a month or two, having been bowled over by her pithy, deep and effective way of communicating about the existential threat that we are facing. I have been alarmed for years by the fact that our developmental model is causing we humans to devour or contaminate all that sustains planetary and human health.
My journals of the last decade are peppered with notes such as "we humans are the only species intelligent enough to orchestrate its own extinction." Leafing through them, I realize that deep down inside, I have been fretting about the environment for years. My survival instinct feels threatened. This sensation was heightened by the fact that I'm a mother. As my children grew, my maternal instinct widened to include other young people and gradually I came to feel that I was in some way responsible for providing a safe and healthy environment not only for my children but for all children now and long into the future.
Yet in the past to express this "climate anxiety" among my circle of friends was to place myself on the fringe. I often isolated myself socially because I had difficulty maintaining small talk with others, wondering if they didn't have existential matters that bothered them.
I identify the zenith of my environmental anguish when I instinctively scribbled these words in a journal in 2009:
I can imagine us on our knees, pleading to the Earth,
asking that she be kind to us, begging forgiveness, 
saying, admitting, confessing that we had been blind,
that we mistook her bounty for something boundless. 
We'll prepare succulent offerings for Her, with tears in our eyes, 
we'll hope to appease her wrath. We'll erect temples to her 
and utter Her name with a mix of fear and reverence. 
We will be pagans again. Finally. 
And it will be too late.     
Fast forward another ten years in which I agonized over the lack of climate action and so when Greta made that appeal at the end of COP24, it called to me as though she were speaking to me individually and exhorting me to follow her example. I felt as though I had been summoned to play on a global team and to give it all I had. Without giving it further thought, I got out my agenda and wrote on every Friday from then until the end of the year Fridays for Future, thus committing to dedicate some time every Friday to this cause, exactly as Greta had said.  I've now done the same through the end of March 2019.
The first week of #ClimateStrikeMilano, I went by myself and sat for half an hour in front of Milan's City Hall. I have to say that it felt strange. It was just me sitting there then taking a selfie with my homemade sign on which I had decided to write CLIMATE EMERGENCY, inspired by an article that I had read on December 11, 2018 on The Guardian: London mayor unveils plan to tackle 'climate emergency': Sadiq Khan accuses government of dragging its feet and calls for investment to avert catastrophe.
As I read that article, it was like a revelation to me. I have known for years that cities produce the vast majority of global CO2 emissions and are central to fighting climate change and yet Mayor Khan's declarations stepped up the game.  That was the moment when I could suddenly see acceleration in the trend in which cities switch from being culprits to champions in the Climate Change struggle, since cities are crucial arenas in which environmental and climate battles could be fought and won, without necessarily having the buy-in of the national government, which have on the whole been proceeding at far too slow of a pace.  The situation has become far too grave and urgent to wait for recalcitrant national governments to get on board. We have to push the change from the bottom.
Thanks to Greta, grassroots advocacy suddenly seems perhaps the most powerful weapon imaginable. So my homemade sign, worn outside the Milan City Hall, was and still is addressing first and foremost Milan's Mayor Giuseppe Sala, to ask that he do even more to fight climate change. I'd like him to declare a Climate Emergency and then work with others to take far more decisive action than to date. And I'd like Mayors of leading cities around the world to forge ahead, thus providing examples for other cities to follow.
Putting these pieces together, I suddenly saw my particular way to snap out of the trance of a deer frozen in the lights of an oncoming car. I saw that I, as a simple citizen, could carry my message to my local leaders, and could try over time to persuade the city where I live to step into a larger leadership role in fighting climate change. I could carry the message that "ending climate change begins in the city", as the C40 Cities point out.  More specifically, ending climate change begins in the city that we inhabit.
So that is my message and I am inspired by Greta, who has called on people around the world to tell their truths, share their concerns and hold our leaders to a markedly higher standard on these issues. So I have committed to striking every Friday from now until March and will carry that message.
What is heartening beyond belief is to see how Greta has managed to "summon" not just me, but people of all ages around the world who are now mobilizing. She has unleashed pent-up energy and is encouraging each of us to band together with like-minded people and to speak up and tell our truth, i.e. that we will no longer tolerate a world in which our leaders ignore, minimalize or even deny the gravity of the climate crisis. Those positions now seem anachronistic. Whereas for years I saw few encouraging sings, now I see countless reasons to be inspired and encouraged, and Greta is the catalyst that we needed to set all of this in motion and help us to bring together what until now had been disparate energies.
I have been oozing climate anxiety for years and I cling to the words expressed by Noam Chomsky: "We can be pessimistic, give up and help ensure that the worst will happen, or we can be optimistic, grasp the opportunities that surely exist and maybe help make the world a better place."
Because I want to choose optimism over despair, I'll end with the words of Greta Thunberg: "Yes, of course we need hope. But more than hope we need action.  Once we begin to act, hope is everywhere."
Amen.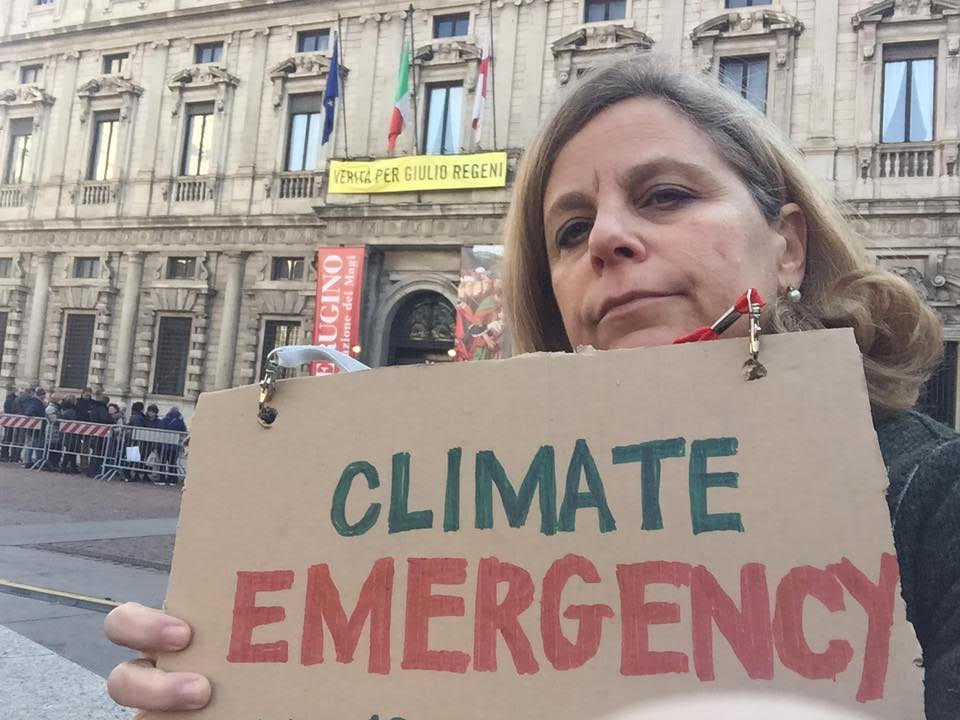 Friday December 14, 2018 – first week of #ClimateStrikeMilano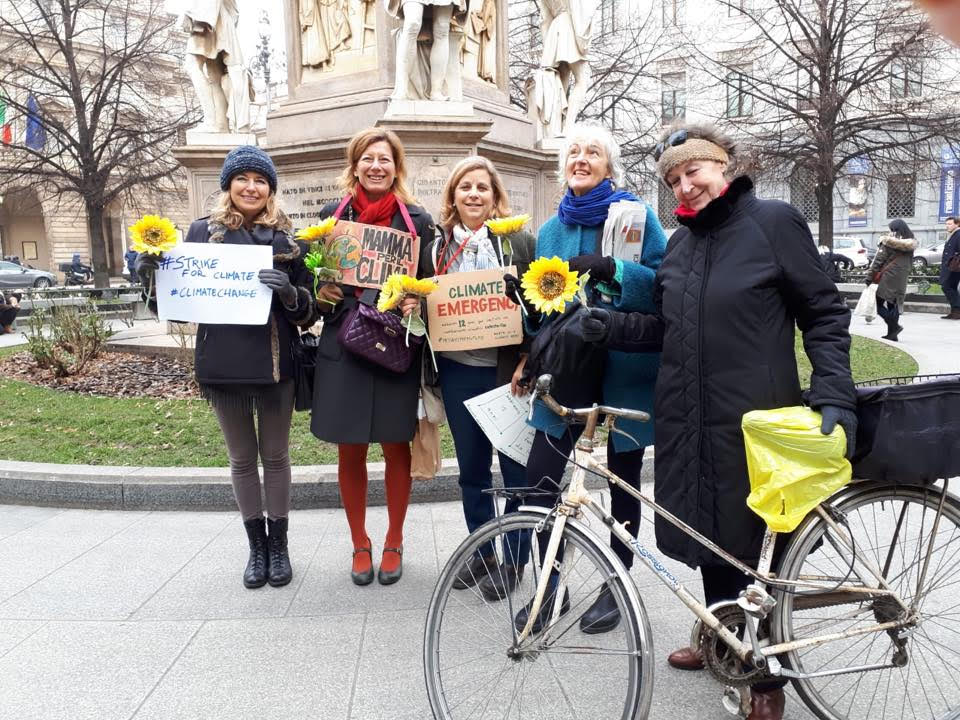 Friday December 21, 2018 – second week of #ClimateStrikeMilano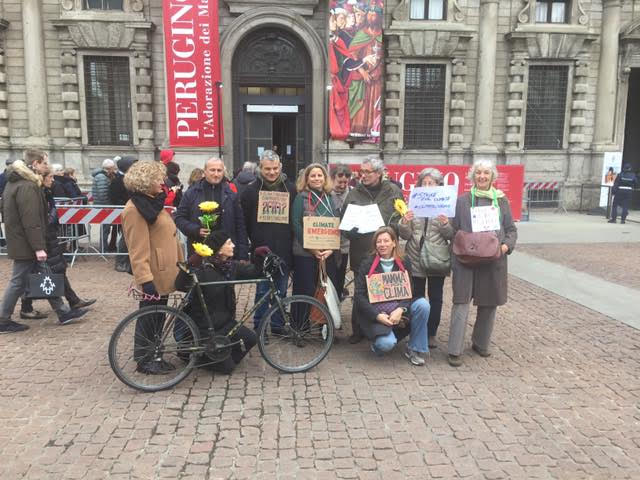 Friday December 28, 2018 – third week of #ClimateStrikeMilano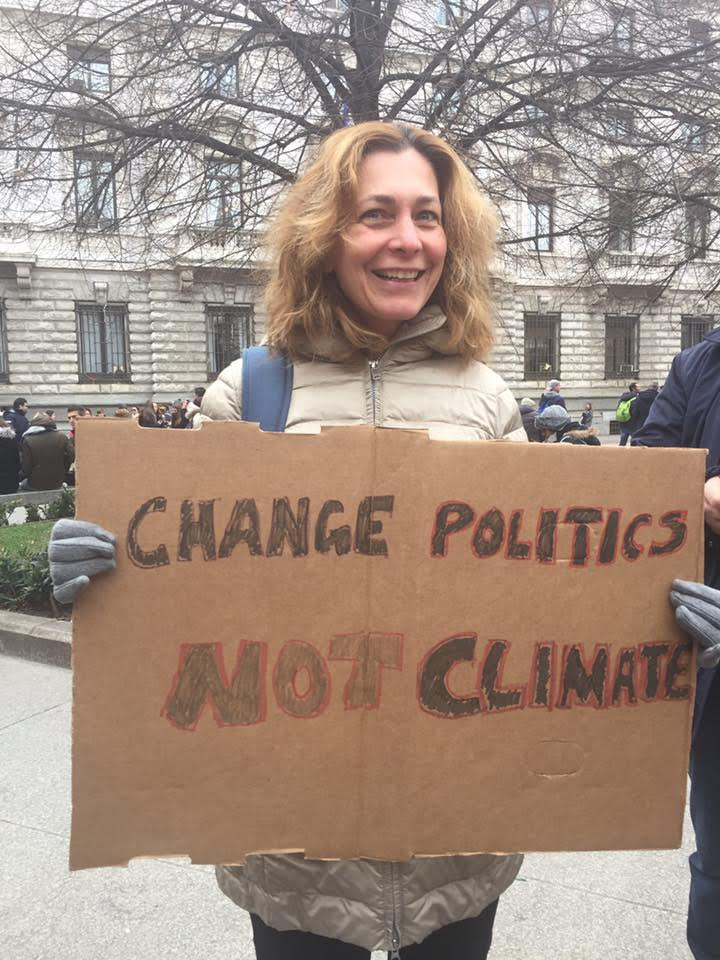 All of the signs are homemade by participants, each carrying their own personal climate message.