"This is a company that has always put profits ahead of public safety, and today, Monsanto has finally been held accountable."
In an historic victory for those who have long sought to see agrochemical giant Monsanto held to account for the powerful company's toxic and deadly legacy, a court in California on Friday found the corporation liable for damages suffered by a cancer patient who
alleged
his sickness was directly caused by exposure to the glyphosate-based herbicides, including the widely used weedkiller Roundup.
As Reuters reports:
The case of school groundskeeper Dewayne Johnson was the first lawsuit alleging glyphosate causes cancer to go to trial.

Monsanto, a unit of Bayer AG following a $62.5 billion acquisition by the German conglomerate, faces more than 5,000 similar lawsuits across the United States.

The jury at San Francisco's Superior Court of California deliberated for three days before finding that Monsanto had failed to warn Johnson and other consumers of the cancer risks posed by its weed killers.  It awarded $39 million in compensatory and $250 million in punitive damages.
As Robert F. Kennedy Jr., a lawyer representing Johnson in the case, declared on Twitter, the court "awarded 200 million in punitive damages against Monsanto for 'acting with malice and oppression.'"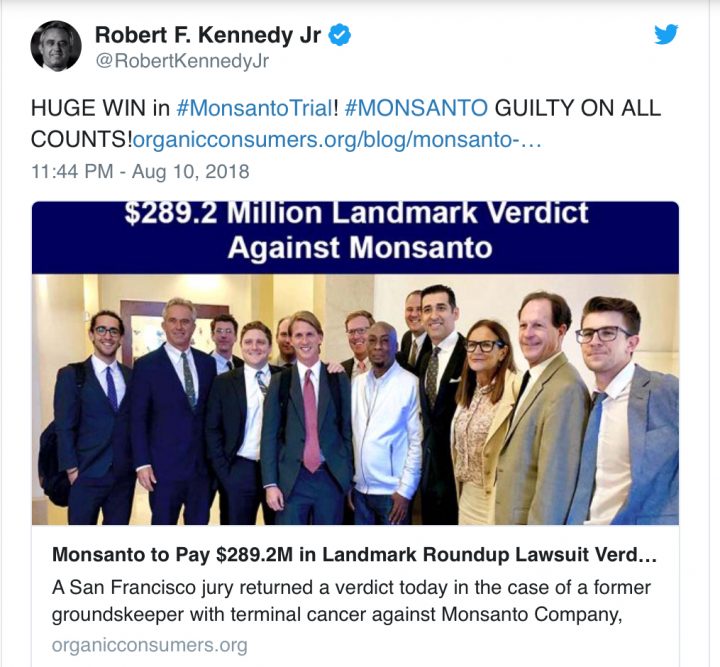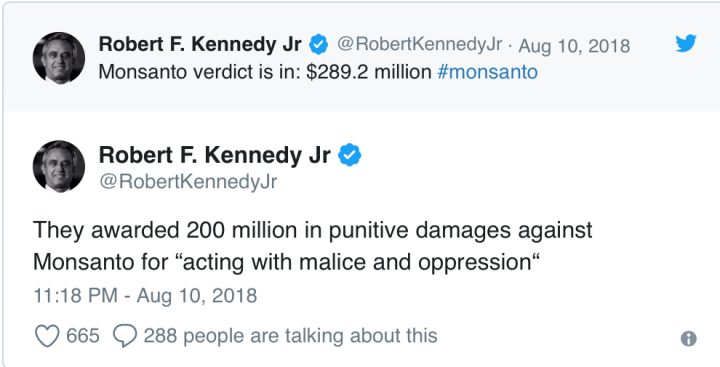 The Organic Consumers Association (OCA), an advocacy group and longtime critic of Monsanto—which has already vowed to appeal—celebrated the verdict: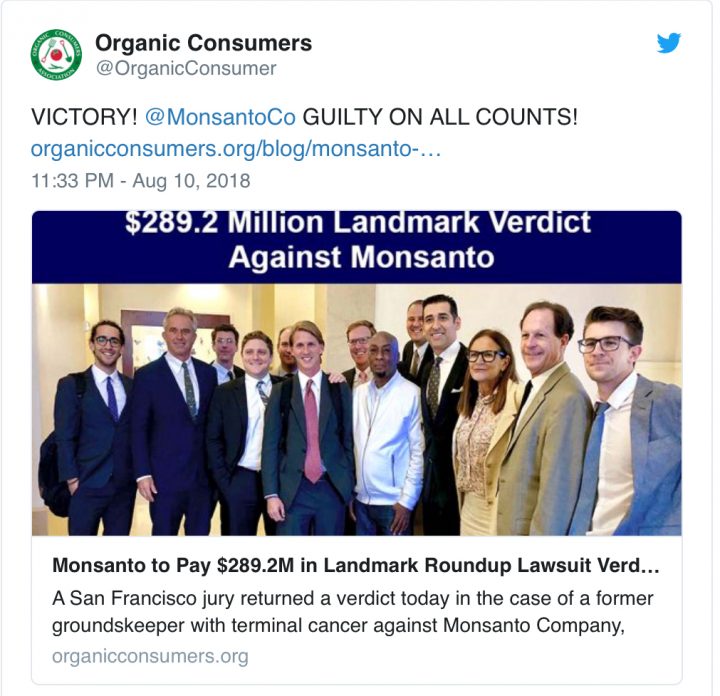 "This verdict proves that when ordinary citizens, in this case a jury of 12, hear the facts about Monsanto's products, and the lengths to which this company has gone to buy off scientists, deceive the public and influence government regulatory agencies, there is no confusion," said Ronnie Cummins, OCA's international director.
"This is a company that has always put profits ahead of public safety, and today, Monsanto has finally been held accountable," he added. "We hope that this is just the first of many defeats for Monsanto, and that the U.S. Environmental Protection Agency will pull this product off the market immediately."
Carey Gillam, a journalist and public interest researcher for the nonprofit U.S. Right to Know, said in a statement after the ruling that "Monsanto and its chemical industry allies have spent decades actively working to confuse and deceive consumers, farmers, regulators, and lawmakers about the risks associated with glyphosate-based herbicides."
"The evidence that has come to light from Monsanto's own internal documents, combined with data and documents from regulatory agencies, could not be more clear: It is time for public officials across the globe to act to protect public health and not corporate profits," Gillam concluded.
In the meantime, Cummins said his group—which also charges that Monsanto has long misled consumers about the safety of Roundup for humans and pets—looks forward to the next steps in its own lawsuit against the company. "We are grateful to Mr. Johnson," he said, "for bravely facing down the 'most evil corporation' in the world."
Journalist Tom Philpott put the ruling in context, noting that even while the Trump administration is doing its best to lift restrictions on toxic pesticides and the chemical industry, the courts appear to be coming around to the unique and far-reaching dangers posed by insecticides, herbicides, and other powerful compounds: