The Carnival of Resistance: Trump not welcome in the UK
This post is also available in: Spanish, Italian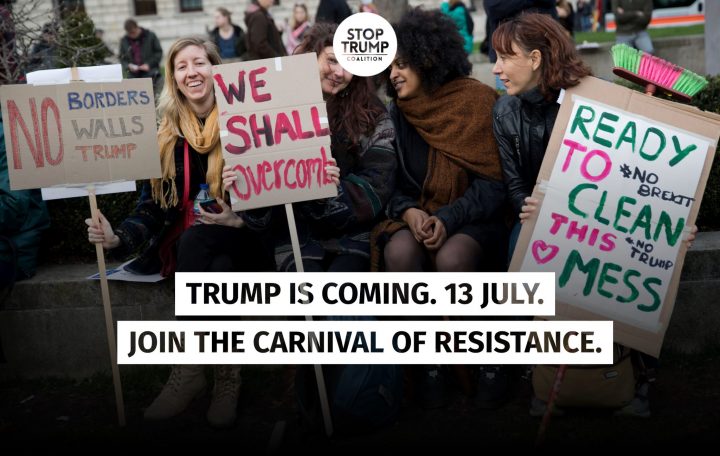 By Stop Trump
In 2017 a coalition of organisations and individuals joined forces to protest against Donald Trump's planned visit to the UK. Their letter to the Guardian called his presidency dangerous and divisive and committed to organising one of the biggest demonstrations in British history.
Two cancelled trips later and this time we think he's really coming. And when he does, the carnival of resistance will be waiting.
We will make it clear to the British government that it's not OK to normalise Trump's agenda and the hate and fear it has sparked.
Trumpism directly threatens steps towards tackling:
Inequality
Peace and disarmament
Climate change
Fighting discrimination, particularly against already marginalised groups like migrants and Muslims
Corporate greed
Be part of the fight back. Pledge to join the carnival of resistance now.
22 June 2018 An open letter to the UK government
The Stop Trump Coalition stands in unity, in action and in a carnival of resistance against a man and a system that rips babies from their parents and cages them like animals as part of its day to day agenda.
The shocking and appalling revelations about US border practices are the latest in a long line of shocking and appalling revelations, highlighting what Trump values mean to the people impacted by them; misery and suffering and infringement of their most basic human rights.
We stand for a world where diversity and freedom not only matter but are integral parts of the fabric of society – we reject migrant scapegoating, and attacks on Muslims. We stand in solidarity with LGBTQI communities, and with women who are resisting patriarchy and sexual violence.  We welcome refugees always and everywhere.
We reject in the strongest possible terms the greedy system that Trumpism represents, that impacts on the weakest, the most vulnerable, and that if unchallenged will eventually lead to the destruction of this planet.
We stand for a world where climate justice and economic justice can be a reality – where humane and long term foreign policies lead the way to a better more civilised and peaceful society.
We call on the Government to Stop Trump from visiting the UK next month in recognition of the fact that the normalisation of Trumpism is wrong and destructive. In recognition of the fact that the vast majority of people in this country are against Trump and the politics of hate and division he encompasses. In recognition of the fact that we, as a society, value humanity and family and the safety of children, here and throughout the world.
We are clear. If the visit goes ahead the demonstration on the streets of, not just London, but Manchester and Liverpool, of Barnstaple and Edinburgh, of Leeds and Blackpool, will be among the biggest and the most united in the history of this country.
Disdain for Trump and his hateful agenda unite neighbours and political opponents, brings people of faith and those of no faith together. In meeting rooms and village halls, in mosques and churches, at dance classes and music practice, the people of the UK are getting ready for the carnival of resistance.
This has always been about more than about one man, it's about the politics of Trumpism which is shamefully mirrored here in the UK, across Europe and the world. We not only reject those politics, but we are committed to resisting them.
#CarnivalofResistance #Resist #StopTrumpism