Two-front War (China & Pakistan) not a Good Idea, says Indian General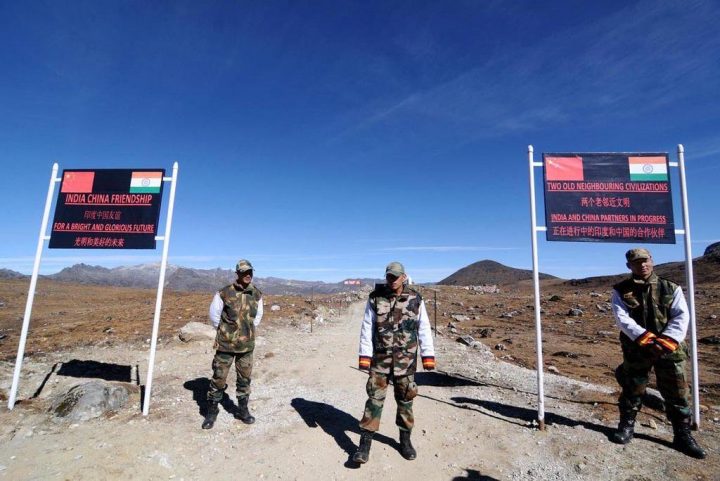 By Abdus Sattar Ghazali
Arguing for a greater role of diplomacy to bring normalcy in tense relations with neighboring Pakistan, Lt. Gen Surinder Singh, the General Officer Commanding-in-Chief, Western Command, has said that a two-front war is not a "smart idea".
Lt. General Surinder was alluding to the statement of Indian Army chief General Bipin Rawat who said in June 2017 that the Indian Army was ready for a "two-and-a-half-front war" (China, Pakistan & internal security requirements simultaneously).
Speaking on the concluding day of a seminar on "Geo-strategic manifestations in Pakistan and Implications for India" at Panjab University in Chandigarh, Lt Gen Singh said India needed to improve relations with China in order to gain the best possible leverage over Pakistan.
"It will also help us secure one side of the border. People keep talking about a two-front war. It is never a good idea, never a smart idea to fight a two-front war," he said. He added that there were various options, including re-negotiating some treaties, to bring about some pressure on Pakistan.
"In Pakistan, military's writ runs. Therefore, sooner or later, we have to talk to their military. I am convinced that on our side also, military diplomacy plays a very important role. Therefore, there has to be a greater role to military diplomacy so that the militaries of the two nations can work with each other and bring about greater confidence in each other and we can go forward," he said.
Referring to China, the Army commander said the relations were manageable.  "There is not that sort of enmity, from people to people or from entire polity on one side and the polity on the other side. There are differences on demarcation of borders. I think this can be worked out. If we can improve our relations with China, we can develop the best possible leverage with Pakistan in times to come," Lt Gen Singh added. "Working with China will secure one side of border," he said.
The general also emphasized that Pakistan's nuclear deterrence had reduced the window for conventional conflict.
"You can only push them conventionally to a limit and not beyond that. And no nuclear nation can be browbeaten beyond a particular stage. It is for that nation to lay down the red lines as to what is the limit of the punishment they will take," he said.
Referring to the possibility of a conventional conflict with Pakistan, Lt Gen Singh said, "Sometimes, conventional conflict does not take place because you can achieve any great military objective but because at times you can get pushed into the conflict due to public opinion. Therefore, sometimes it becomes the case of tail wagging the dog."
Tension on Line of Control in Kashmir region
Lt. General Surinder's comments came amid mounting tension between India and Pakistan along the line of control in Kashmir region.
Pakistan's  Foreign Office (FO) Thursday (March 1) once again summoned the Indian Acting Deputy High Commissioner and condemned the continuous unprovoked ceasefire violations by Indian forces along the LoC resulting in the causalities of innocent citizens.
An elder civilian was killed and a woman was injured when Indian forces opened unprovoked fire in Jandrot and Chirikot sector.
According to Indian sources there has been a surge in border ceasefire violations in first two months of this year. At least 21 people including 12 army and Border Security Force men and nine civilians have been killed and over 75 others injured in firing and mortar shelling along the LoC and IB in J&K in 58 days.
According to Pakistani sources Iin 2018, Indian forces have carried out more than 335 ceasefire violations along the LoC and the Working Boundary, resulting in the killing of 14 innocent civilians and injuries to 65 others. This unprecedented escalation in ceasefire violations by India is continuing from the year 2017 when the Indian forces committed more than 1,970 ceasefire violations.
Call for comprehensive dialogue with Pakistan:
Amid mounting tension along the Line of Control, the Communist Party of India on Thursday (March 1) said that the government should shed its "confrontationist stance" and initiate talks for resumption of a comprehensive dialogue with Pakistan.
In the editorial in the latest edition of CPI-M organ 'Peoples' Democracy', former general secretary Prakash Karat wrote that the government by "closing off all avenues for talks" with Pakistan, has "painted itself into a corner".
"There is an urgent need to back off from blinkered confrontationist stance. First of all, there should be talks to restore the ceasefire and peace on the Line of Control and the international border in Jammu and Kashmir. Simultaneously, the government should initiate talks for the resumption of a comprehensive dialogue with Pakistan," he said.
In his piece titled 'Reverse the no talks stance', Karat said that even though the then defense minister  Manohar Parrikar had claimed the surgical strikes as the only "befitting reply" to the ceasefire violation by Pakistan, it could not stop the constant shelling and artillery fire by Pakistani army and attacks by extremists from across the border on army and BSF camps.
He has also reminded the government that since the ceasefire was put in place in November 2003, the year 2017 witnessed the highest number of violations. There were 860 incidents across the Line of Control and another 120 on the international border and the situation has worsened in the last three months with December 2017 and the first two months of 2018 with 400 violations in the first two months of this year, he pointed out.
The CPI leader has also alleged that the Modi government's "one-dimensional view" that all protests and separatist demands are Pakistan-inspired has prevented it from taking any serious step for a political dialogue within Jammu and Kashmir. "Its purely security and militaristic approach has further worsened the situation in the valley," he said.
Karat suggested that the government should initiate confidence building measures which can be done along with the government making it clear that it will continue to take firm measures to check cross border infiltration of extremists. The CPI(M) leader also emphasized that the government must realise that despite all its "bluster and nationalistic posturing" on Kashmir, a dialogue with Pakistan is an essential part of arriving at a "political settlement" on the Jammu and Kashmir issue.
---
Abdus Sattar Ghazali is the Chief Editor of the Journal of America (www.journalofamerica.net). He is the author of several books including Islam & Muslims in the 21st Century published in 2017.