Madurai, India— Diwali, the Hindu Festival of Lights, is the biggest, brightest and most important holiday of the year. Families light rows of clay lamps outside their homes which symbolize inner light as protection against spiritual darkness. Hindus interpret Diwali in different ways depending on their region. But what is common to all is to celebrate the victory of "good over evil, light over darkness, knowledge over ignorance, and hope over despair". It is celebrated nationwide by Indians of all faiths—Hindus, Jains, Buddhists and Sikhs, with non-Hindus marking the holiday for their own reasons: for the Jains, it is to mark Lord Mahavira's nirvana attained in October 15, 527; for Sikhs, it is to commemorate the Sixth Sikh Guru, Guru Hargobind Ji's freedom from imprisonment while the Newar Buddhists for their part worship Lakshmi.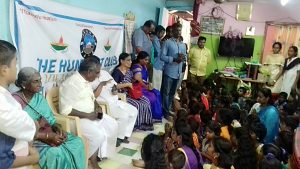 As in previous years, the Humanist Club in Madurai shared the spirit of Diwali with orphans and mentally ill people. Their 7th year Diwali Celebration was held on October 18, 2017 at Emanuel Trust, which takes care of 40 males and 40 females and, at the Anyone Orphanage Children Home which houses 60 children. According to Sundar, "We share our happiness on Diwali not only with our family members but also with non- family members" through these non-secular charitable activities. The Humanist Club solicited donations from kind-hearted donors such as fruits, soaps, oils and towels for the mentally ill and; for children, sweets, crackers, rice & groceries, donations in kind that helped make the celebration a happy one. Around 30 members visited both places and spent a happy time, conversing with the residents. The guest of honor, Gandhian Dr.T.Ravichandran, from the Faculty of Gandhigram University, gave words of encouragement and inspiration.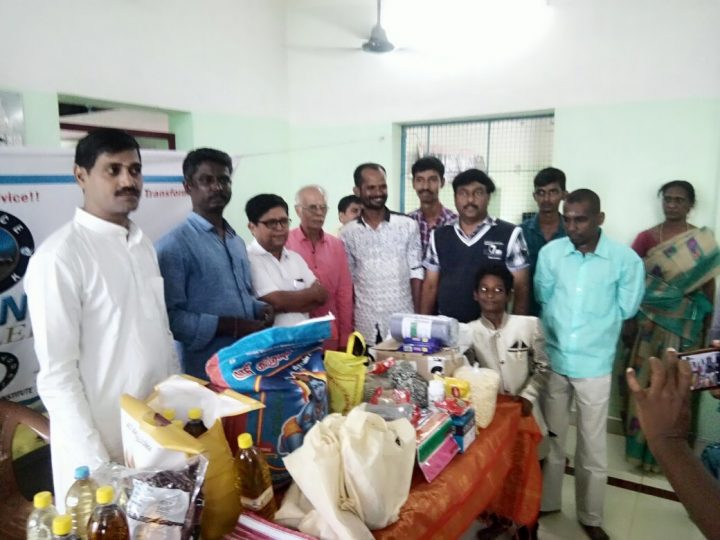 The Humanist Club has also been distributing free lunch packs to roadside destitutes since June 2014. This Diwali, one of the Club's friends, Mr.Pradeep Raj, Lecturer at the SVN College, contributed free Lunch Packs, making it the Club's 301st Free Lunch Pack Distribution to date.
The Humanist Club in southern Madurai is also planning to organize similar celebrations on December 2 to commemorate Milad Un Nabi which is Mohammed's Birthday, on Christmas, December 25 and New Year 's Day.
Coordinator and Founder of The Humanist Club, P.Jeyasundaram, fondly called Sundar, was a lawyer, yoga trainer and from 2009, has been working as an Asst. Professor in Dept. of Yoga at the Institute of Gandhian Studies and Research inside the Gandhi Museum Campus. He learnt about the Humanist Movement when a group of Argentines came to him for a short yoga course. "Talking to them, I felt this is what I would like to do," says Sundar and instantly chose to become the Madurai coordinator for the Movement. "It meant I had to practice active non-violence and be an agent for social transformation," he adds.
Inspired by Silo's ideology and vision of humanizing the world, he started The Humanist Club. By 2013, there were over 100 people permanently by his side and with them set up The Humanist Club in Madurai that hopes to sow the seeds of a new culture in the years to come. The Humanist Club and its members are guided by three slogans in their daily life: "Self Transformation, Social Service, and Social Transformation".
Yoga, Gandhi and Silo emphasize the importance of Self-Transformation, especially for social workers, spiritual aspirants and change makers. The Humanist Club uses Yoga which is a gift of India to the world as a tool for self-transformation. The Club organizes Hatha Yoga workshops and Meditations, including Kundalini Meditation (Energetic Discipline) and Vipassana Meditation (Mental Discipline).
We are doing a lot of charity works as Social Service or humanitarian works like blood donation camps, free lunch packs distribution for roadside destitutes, frequent food sponsored in orphanages, old age homes and homes for the blind. Every year, in line with its Social Transformation thrust, the Club organizes programs, workshops and exhibits to coincide with landmark celebrations such as the International Women's Day, Hiroshima & Nagasaki Day and the October 2nd International Nonviolence Day.
The Club hopes to someday build a Peace Park in Madurai similar to the Parks of Study and Reflection that is being built around the world as a place for Service and Transformative practices related with Yoga, Gandhi and Silo.
This program was organized by Sundar, Founder & Coordinator, Mr Gangadaran and Mr Sankar. For more details about the Humanist Club's volunteer activities, contact Sundar:
Emails: thehumanistclub@gmail.com
jeisundar@yahoo.co.in
Mobile: +91 90036 35990
Humanist Club
486, Shenbagam 1st Street
Gomathipuram 6th Main Road
Madurai – 625020