Labour leader Jeremy Corbyn used his spot on the Glastonbury festival's main Pyramid Stage to hit out at "elites" that doubted his party's election campaign, and reminded supporters of their power to affect change in the UK.
Fresh from an election in which Labour unexpectedly gained seats, Corbyn addressed thousands of festival goers at Worthy Farm, Somerset on Saturday.
LIVE: Jeremy Corbyn gives speech at Glastonbury music festival

Nai-post ni RT UK noong Sabado, Hunyo 24, 2017
After thanking event organizer Michael Eavis for providing the setting, Corbyn opened with a short message for US President Donald Trump: "Build bridges not walls."
Corbyn then said it was "fascinating" that so-called elites had unsuccessfully predicted the outcome of the latest UK election and warned that Labour politics "is not going back in any box."
"What was fascinating about the last seven weeks of election campaigning around Britain was [that] the commentariat got it wrong. The elites got it wrong," he said.
"The wonderful campaign that I was involved with brought a lot of people back into politics because they believed there was something on offer for them. But what was even more inspiring was the number of young people who got involved for the very first time.
"They were fed up with being denigrated, fed up with being told they don't matter, fed up with being told they never participate and utterly fed up with being told that their generation was going to pay more to get less."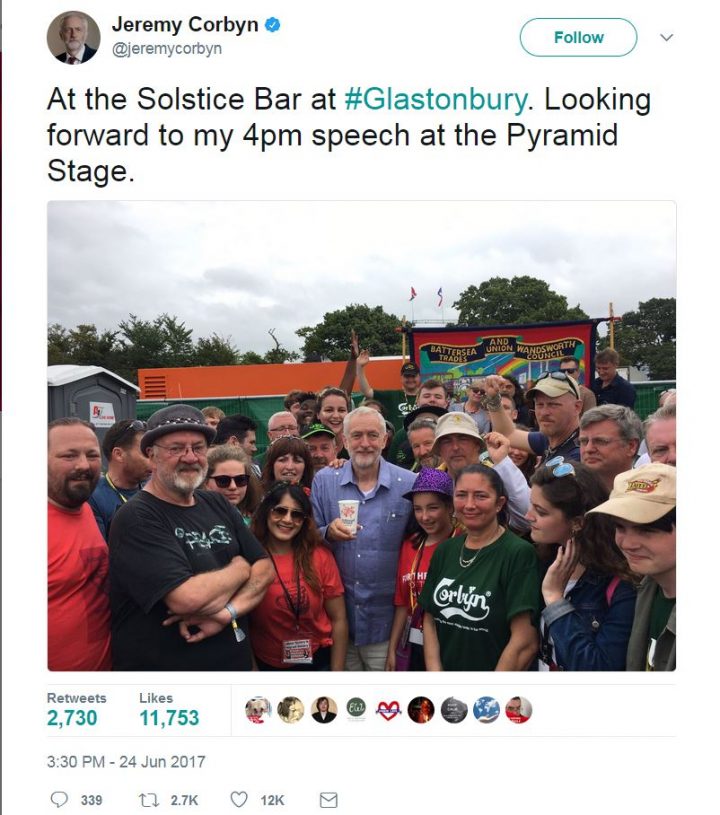 Corbyn was pictured at the event pulling pints of beer for joyful music fans, and his name has also become a festival chant for revelers.
Addressing the issue of inequality in the UK, Corbyn rhetorically asked the crowd whether it was right that people have been gripped by housing fears following the recent Grenfell Tower fire disaster.
"Is it right that so many people live in such poverty in a society surrounded by such riches? No, it is obviously not," he said.
Referring to Brexit fears hanging over the future of foreign nationals working in the UK, Corbyn said, "they all must stay and they all must be part of our community."
The Labour leader then said a "collective" attitude had succeeded in securing healthcare as a human right in the UK following the World War I, and suggested that the same pressure be applied to overcome inequality today.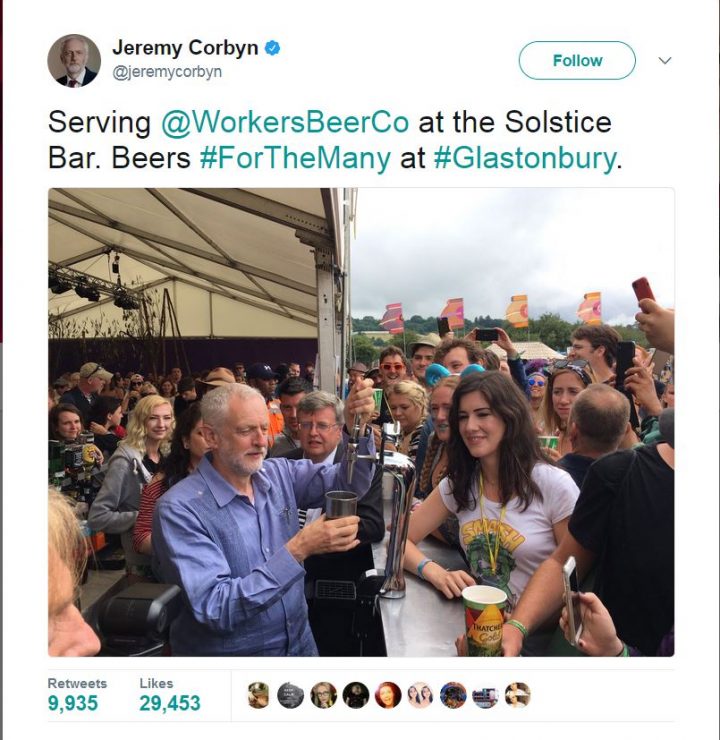 "Nothing was given from above by the elites and the powerful. It was only ever gained from below by the masses of people demanding something better, demanding their share of the wealth and the cake that is created," he said.
"I want to see a world where there is real opportunity for everybody in our society. That means sharing the wealth out in every part of the country."
He added: "Another world is possible, if we come together to understand the power that we have got and achieve that better society where everyone matters."