The Coalition Berlin says #NoIvanka at W20 and hosts a "Gala Für Alle"
This post is also available in: German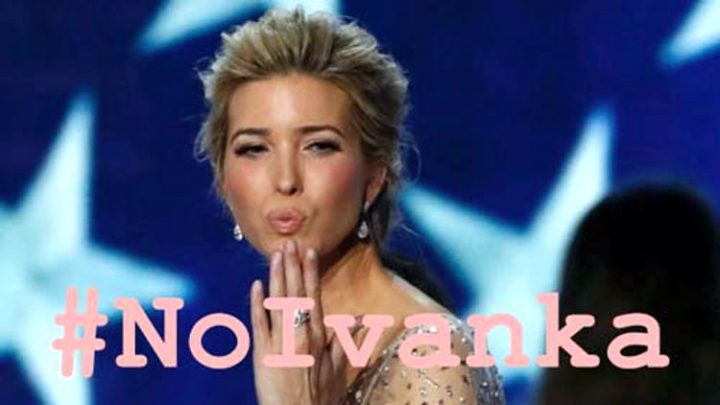 On April 25, as entrepreneurs from the Women's Empowerment Summit (W20) gather at an exclusive dinner hosted by Deutsche Bank, Berlin activists and artists will host a "Gala für Alle" to show that summit participant, Ivanka Trump, is only interested in empowering herself and her family's brand.
The daughter of U.S. President Donald Trump, Ivanka has been enriched by her father's financial and political connections. Yet even though she has positioned herself as a champion of women's rights – and is now an official White House employee – her actions prove otherwise.
As one example, Ivanka claims to support the rights of women to access affordable healthcare, but when her father's administration decided to defund Planned Parenthood, a non-profit that provides life-saving care to women and girls across America, Ivanka was reportedly skiing in Canada. (1)
Held in front of the Deutsche Bank Kunsthalle in Berlin, the "Gala für Alle" will shine a harsh light on the hypocrisy of both Ivanka Trump's participation at the W20 and the summit's overzealous focus on corporatist solutions as a means of empowering women.
The Coalition Berlin rejects this "empowerment" of the 1% at the expense of the 99%.
"The 'empowerment' of the W20 is dependent upon exploitation of women, those excluded from this exclusive summit and gala. Ivanka Trump's own clothing line is produced in sweatshops by mainly female garment workers living in China, Vietnam and Bangladesh (2)," says Kathleen Brown, member of The Coalition Berlin. "How can Ivanka Trump talk of women's 'empowerment' at the same time President Trump has blocked funding for international reproductive care? Ivanka's silence on life-and-death matters for women is deafening."
The "Gala für Alle" is open to all people, as an expression of creativity and true democracy at a time when politicians and corporations alike close ranks, leaving a majority of the world's neediest behind.
"Our response is a feminism for all those excluded from the boardroom. Since we're not invited into the halls of power, we'll host our own 'Gala für Alle' in the streets," says Kathleen Brown.
Deutsche Bank's attempt in particular to "pinkwash" its history by hosting the W20 dinner is telling. The bank is a tertiary funder of the Dakota Access Pipeline in the United States, a project that directly threatens indigenous sovereignty in South Dakota. What's more, the Trumps are major clients of Deutsche Bank. (3)
Tuesday's "Gala für Alle" is an event that aims to truly empower everyone. In addition to political speakers who will address critical issues of women, refugee and labor rights, a number of Berlin-based artists are scheduled to perform.
"As queers, refugees, people of color and artists of many backgrounds, the performers at the 'Gala für Alle' stand against the unethical politics of the W20 and Ivanka Trump," says Oly Stash, performance artist and queer activist, who will be the MC of the "Gala für Alle." "We are bringing a night of critical performance and entertainment for Berlin to revel in our resistance and in the power of intersectional solidarity. Come join a night for ALLE!"
About The Coalition Berlin:  Based in Berlin, The Coalition is made up of organizations, activists, artists, and previously nonpolitical individuals concerned about the rising global tide of extremism in the United States, in Germany, and across Europe. More information about The Coalition Berlin can be found at http://the-coalition.berlin. 
---
(1) 'Actions Speak Louder Than Words.' Ivanka Trump Is Walking a Fine Line on Women's Issues, 17 April 2017 Fortune
(2) Ivanka Trump's Clothing Is Made in China, Indonesia, and Vietnam, 28 Dec 2016 Teen Vogue
(3) How Donald Trump became Deutsche Bank's biggest headache, 16 Feb 2017 The Guardian