World Peace Forum in China defends inclusive dialogue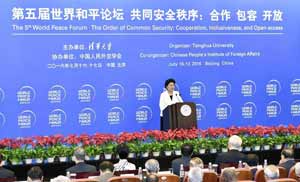 Beijing, Jul 16 (Prensa Latina) The V World Peace Forum opened here today with the presence of analysts from about 20 countries that hold talks under the slogan common security: cooperation, inclusion and open access.
During the opening ceremony, Vice Premier of the State Council, Liu Yandong stressed the importance of international cooperation to maintain peace and reiterated China's respect for sovereignty and territorial integrity of all countries.
Liu highlighted the need for dialogue to resolve differences among nations, while recalling that the country does not recognize the ruling of the Permanent Court of The Hague in favor of the Philippines on the Southern China Sea.
At the opening of the forum, former Prime Minister of Japan (2009- 2010), Yukio Hatoyama, commented that only through inclusive dialogue and a peace council may be resolved existing disputes in Asia, including positions of the Democratic People's Republic of Korea and arms development in the region.
According to the president of the World Peace Forum, Yang Jiaxuan, the previous four meetings became important platforms for discussion of issues of global security and convergence of various viewpoints.