Protests Erupt Nationwide After Police Killings, 300+ Arrested
This post is also available in: Italian, Greek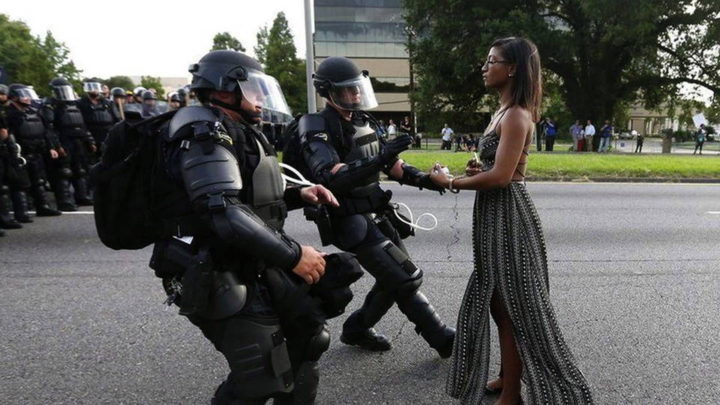 Protests against police brutality erupted across the United States over the weekend, with tens of thousands of people taking to the streets and blocking roads, bridges and highways in cities including Chicago, Atlanta, Baton Rouge, St. Paul, Los Angeles, Phoenix and Rochester, New York.
More than 300 people were arrested nationwide, including more than 160 in Baton Rouge, where two white police officers killed Alton Sterling last Tuesday morning — an African American father of five. Multiple videos of the killing show police officers had Sterling pinned to the ground before shooting him multiple times. Among those arrested in Baton Rouge was Black Lives Matter activist DeRay Mckesson, who ran for mayor in Baltimore. He was held for 17 hours.
In Minnesota, where Philando Castile was killed by police, more than 100 people were arrested on Saturday night on Interstate 94 during a standoff with police, during which officers in riot gear threw smoke bombs and pepper spray; while some threw Molotov cocktails and rocks at the officers. More than 20 police officers were injured. Philando Castile was killed during a traffic stop for a broken tail light. The aftermath of his death was live streamed on Facebook by his girlfriend, Diamond "Lavish" Reynolds in an extraordinary video in which she narrates the killing while she is still in the car, with the police pointing a gun at her and her 4-year-old daughter, as her boyfriend lay dying in the seat next to her. Philando Castile had been pulled over at least 52 times by police in recent years, receiving $6,588 in fines, although more than half of his violations were later dismissed — a record which many decried as an example of racial targeting.
Throughout the weekend, solidarity protests also erupted in Phoenix, Arizona, where police pepper sprayed a crowd of more than 1,000 protesters; in Memphis, Tennessee, where hundreds shut down the Interstate-40 bridge, in Rochester, New York, where 74 people were arrested; and in Chicago, where protesters blocked traffic by forming a peace sign with their bodies. In cities across the country, the police deployed military-style vehicles, smoke bombs and tear gas to attempt to suppress the uprisings. The heavily militarized response to the protests was encapsulated by a photograph, which has since gone viral, of a tall black woman in a dress standing gracefully in front of two police officers in full riot gear, who appear to be running toward her. The photo was shot by New Orleans photographer Jonathan Bachman. It's reported the woman was later arrested. During a protest in Atlanta, where activists have been marching for four straight nights, one of the protesters spoke out.
Bq. Protester: "And it's so beautiful to see my people and so many other people in different races coming together and making a stance, and saying you know what, we're tired, tired of it. So listen let's do something. Let's change. Today is the change. Now is the change. You are the change. We are all the change. We are history. We are the future. So what are you going to do about it?"