India: When Muslim boy tops State level examination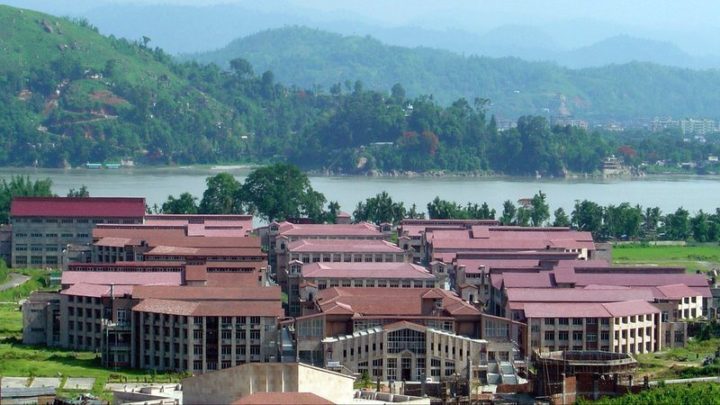 An Assamese Muslim student tops the Secondary Education Board of Assam
conducted High School Leaving Certificate (HSLC) examination, which
may not make a national headline, but if the boy appears the important
tenth standard examination from a Hindu culture based institution, it
can create extraordinary news across India.
Such an amazing outcome was observed recently in Guwahati, when
Sarfaraz Hussain topped the HSLC examination with 590 marks out of 600
from Shankardev Shishu Niketan, run by the Hindu centric Vidya Bharati
affiliated Assam Shishu Shiksha Samity.
Even though the result, which was declared on 31 May 2016, did not
surprise the people of Assam, as it was quite a natural phenomenon,
but the correlation between the Muslim student and  Rashtriya Swayang
Sewak (RSS) backed school made ripples in national media outlets as an
usual happening.
However, Sarfaraz is not the first and only Muslim student to get
education in an RSS's educational wing affiliated institutions of
Assam. There would be more than 20 Muslim students who are undergoing
studies at the Betkuchi of Guwahati based  Shankardev Shishu Niketan.
But the acute poverty faced by 16 years old student, which he overcome
to achieve the success, really made the news amazing. Sarfaraz's
father works in a city based hotel and his little earning compelled
Ajmal Hussain to seek supports from the institution, which was
responded positively by the school management. Otherwise, it might
have been difficult for Hussain to continue his son's education.
Hussain credited the Sarfaraz's success to his  hard work, teaching
staff of Shankardev Shishu Niketan and also the Hindu Goddess (of
learning) Devi Saraswati.
Over 381,500 students appeared in the examination, where over 62
percent candidates succeeded. Altogether 232 students topped the list
of 20 meritorious positions, where 44 students belonged to various
Vidya Bharati affiliated school (inclusive of  Sarfaraz).
Vidya Bharati, which runs 12,000 schools across India, it's State
entity Assam Shishu Shiksha Nyas maintenances over 500 educational
institutions in the State, where hundreds Muslim students enroll every
year. One can find  a number of Muslim teachers in these schools,
which is named after the great Assamese saint, philosopher and
reformer Shrimanta Shankardev  (1449-1568).
Sarfaraz's success came in an opportune moment for the newly inducted
Bharatiya Janata Party led government at Dispur. The first BJP chief
minister of the State Sarbananda Sonowal was quick to appreciate &
encourage all students for the hard works for the important
examination. Moreover his minister Sarma rushed to the residence of
Sarfaraz and even addressed a gathering in his school.
"We feel proud for Sarfaraz  and many others like him who succeeded in
their endeavour. Moreover I appreciate Shankardev Shishu Niketan for
its continued success stories," said minister Sarma after accepting
Pranam and sweets from Sarfaraz.
The minister declared that the government would fix an amount of
rupees  five  lakh in  the bank for his higher studies. As Sarfaraz
wanted to study at Cotton College in Guwahati, Sarma assured that he
would arrange free enrolling for Sarfaraz in the prestigious
centuryold institution.
"Not only Sarfaraz, but every meritorious student belonged to the
weaker section of the society would be supported financially for
relevant educational expenditures," added the young minister. He also
announced rupees ten lakh for the up-gradation of Shankardev Shishu
Niketan and assured immediate maintenance of the approach road to the
institution.
Assam government now plans to establish more such schools as the
minister declared that every Panchayat of Assam would have such in
real sense secular institutions. Sarma declared that Hindus, Muslims,
Christians etc had been living in Assam for centuries with harmony and
that fabric should not be destroyed.
Similar point of views was expressed by BJP's only Muslim legislator
in the 14th Assam Legislative Assembly. Aminul Haque Laskar, who was
elected from Sonai Assembly constituency in Barak valley as a BJP
nominee, believes that he is an Assamese first. The fifty years old
graduate turned active student leader attracted to Asom Gana Parishad
and finally shifted his locality to the saffron party, commented that
India was the safest country in the world for Muslims.
Sarfaraz's success also delighted the headmaster of the school Akshay
Kalita who termed the event  as an inspiring example for other
students. Kalita mentioned that besides his study, Sarfaraz was fluent
in  Sanskrit and won many awards in Geeta reciting competition.
Sarfaraz also served as the secretary of Saraswati Puja committee in
the school.
The headmaster asserted that the school always emphasizes on quality
education without religious colour. Moreover regular interactions with
the parents also help understanding various parameters related to the
academic performance & other activities of the enrolling students,
added Kalita.
"With my parent, my school too played a vital role in whatever success
I have achieved today. I was expecting to be among the first ten
positions, but my hard works brought me the real glory," said Sarfaraz
wearing an Assamese traditional Gamocha on his neck.
Sarfaraz also expressed optimism that he could continue his academic
journey. He plans to study at Cotton College up-to twelfth class and
then pursue engineering educations. Sarfaraz remains confident that he
would let his parent and school teachers down in future as well.