North Korea's east wind, strong but warming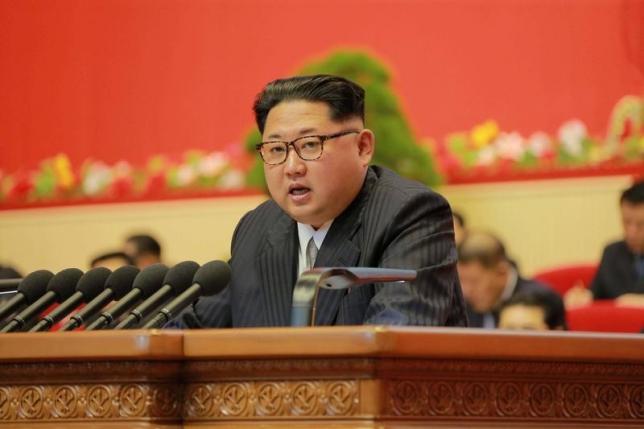 The voice of reason was heard following the Workers' Party Congress in Pyongyang that ended recently. North Korean leader Kim Jong Un stated his country would not use nuclear weapons unless its sovereignty was infringed by others with nuclear arms. This was part of a speech he gave which was broadcast May 8, Sunday. Besides that declaration, Kim Jong Un outlined a five-year plan to boost the state's economy.
Further, the leader was also reported (Reuters) saying that the North "will faithfully fulfil its obligation for non-proliferation and strive for global denuclearisation". This was on the Saturday though aired on state television Sunday.
Pyongyang is to seek normalisation of ties with countries that had been hostile towards it, Kim said.
North Korea's economy is facing difficulties owing to U.N. sanctions that were tightened further in March following its nuclear tests.
Kim Jong Un's five-year plan to boost economic growth emphasized the need to improve North Korea's electricity supply and this included the development of nuclear power. Thus the recent coinage of "Byongjin" – the policy of jointly pushing forward economic development and nuclear weapons and their delivery systems.
The economic plan mentioned particular areas of interest, including more mechanization of agriculture and automation of factories. Coal mining is to remain of high priority.
"…We must solve the energy problem and get basic industries on the right track, and at the same time increase agricultural output and light industry production to surely improve lives of the people," the leader said as part of his three hour long speech.
Also, "As a responsible nuclear weapons state, our Republic will not use a nuclear weapon unless its sovereignty is encroached upon by any aggressive hostile forces with nukes."
Kim called for improved ties with South Korea, an oft repeated phrase.
The two Koreas remain technically in a state of war and have been since their 1950-53 conflict ended in a truce, not a peace treaty.
The savvy engineers of North Korea are surely well aware of the strides taking place in the renewable-sustainable energy field these days. But, the desire for nuclear weapons to counterbalance the West's stockpile has become predominant. Given the unending threats against the isolated state,  Kim Jong Un likely feels he must have his own counterforce. Now, nuclear power stations are the only source of those by-products that are essential for the production of nuclear weapons, thus the development of a nuclear power industry.
This means, North Korea will be squandering a lot of its hard earned cash on items hopefully never to be brought into use.  Plus, the nation will miss a great opportunity to abandon all together any link with the contaminating nuclear industry which would allow it to emerge on the quality of life front so much the sooner. Now it will be faced with all the dangers of nuclear power and all the expense of decommissioning.