2,500 UK senior doctors back striking junior colleagues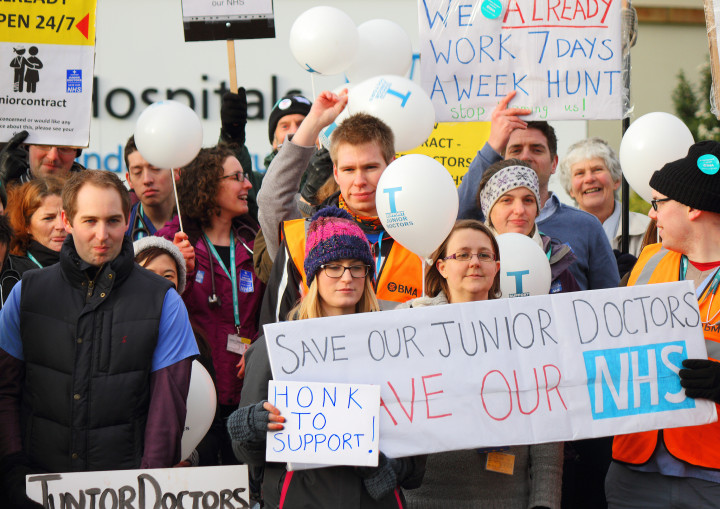 Thousands of British consultants, general practitioners and senior doctors have expressed support for their junior colleagues' decision to hold an all-out strike next week in a dispute with the government over working conditions.
More than 2,500 senior clinicians signed a letter sent to British Prime Minister David Cameron and Secretary of State for Health Jeremy Hunt on Saturday, accusing the UK government of leaving junior doctors with no choice but to take industrial action.
Represented by the British Medical Association (BMA), junior doctors are planning their first all-out walkout on 26 and 27 April – the first time in the history of the National Health Service (NHS) that they have threatened a full withdrawal of labor.
The proposal comes amid criticisms that such an action may cause patients serious harm.
However, the senior specialists said in their letter that they would be capable of keeping the NHS "safe" for patients when junior doctors stop working despite "much publicity to the contrary."
Ministers first drew up amendments to junior doctors' contract in 2012, which will see a change in pay and working hours.
Years of talks over the arrangement broke down and the government announced in February that it would impose the contract in August.
The government argues the proposed contract changes will create a truly seven-day service.
The senior doctors, however, said, "Stretching an already limited resource across [seven] days does not improve patient care, rather diminishes it, and will also result in the demoralization of an entire generation of junior doctors."
Professor Nigel Standfield, the head of the postgraduate school of surgery at Imperial College, London, accused the British government of lacking "insight," saying "its health service policy is in ruins and failure has nothing to do with the dedicated workforce trying to maintain an NHS by hardwork and passion."
The BMA said earlier this week that it would call off the planned strike if Hunt lifted his threat to force the new contract on junior doctors.