Huge London rally held in solidarity with refugees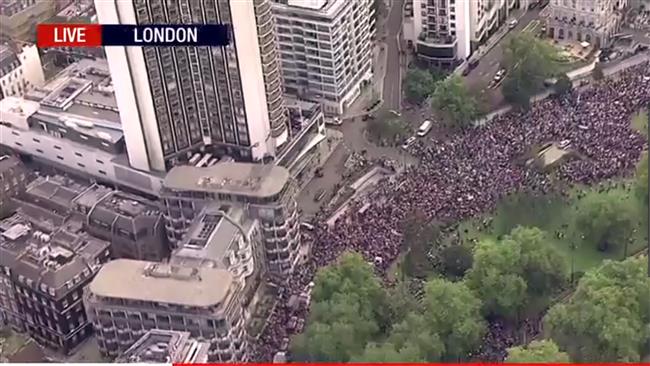 A massive crowd of demonstrators takes to the streets of London to call for action on Europe's deepening refugee crisis.
The 'Solidarity with Refugees' rally on Saturday began at Park Lane and proceeded to Downing Street, with speeches in Parliament Square.
The participating organizations include the Refugee Council, Amnesty International, the Syria Solidarity Movement, Stand Up to Racism and the Stop the War Coalition.
The march is being held ahead of emergency talks on Europe's refugee crisis on Monday that will be attended by the UK Home Secretary, Theresa May, and her EU counterparts.
Organizers of the Solidarity with Refugees march said that May needed to convey the message that Europe should not continue to allow thousands to die trying to reach the EU and exercise their legal right to claim asylum, according to the Guardian.
Similar rallies are also planned in major European cities.
The biggest refugee crisis since the World War II has divided Europe, with Germany pushing for compulsory quotas within the EU, but eastern European nations snubbing the proposal.
The International Organization for Migration has said more than 430,000 people had crossed the Mediterranean to Europe so far in 2015, with 2,748 dying or going missing en route.