UN Expert Calls for Lifting US Blockade against Cuba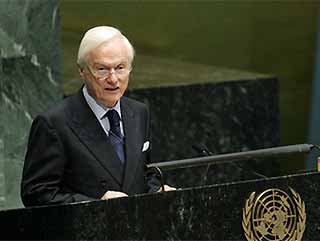 United Nations, Jul 6 (Prensa Latina) Unitd Nations special rapporteur for human rights and international sanctions Idriss Jazairy urged today the United States to lift the blockade against Cuba, while praising the reestablishment of diplomatic relations between both countries.
In a statement, Jazairy indicated that the process to achieve normal ties between Cuba and the United States includes the end of the economic, commercial and financial blockade still in force, following the statements by Presidents Raul Castro and Barack Obama last week.
The two Presidents confirmed on July 1 the reestablishment of diplomatic ties and the opening of embassies in the respective capital cities from July 20.
Jazairy said that lifting the embargo should end its negative social, economic and humanitarian impact that has affected for decades the Cuban people, something that the UN General Assembly has rejected in multiple resolutions.
Jazairy praised the statements by US Secretary of State John Kerry, acknowledging the need to change a policy that despite being unsuccessful is still in force.
Cuba denounces the human damage caused by the blockade, targeting health, education and other sectors, while representing an obstacle for socio-economic development.