Towards the #Greferendum: Orange is the colour of inspiration
This post is also available in: Spanish, German, Greek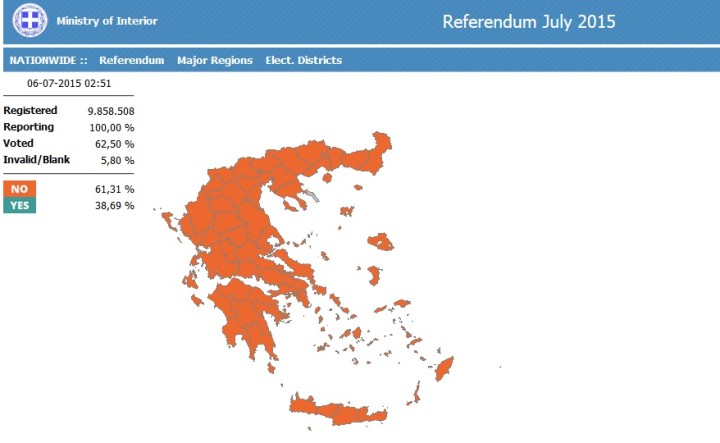 In dramatic and unexpected scenes last night, Greece gave a resounding OXI (NO) to the austerity measures imposed by the country's credtors.  Here our correspondent Marianella Kloka gives her reflections on what has been an astouding night, and what it means for the people of Europe. (The Greek translation can be found underneath the English.)
Final part: I don't know what is ahead, but I won't go back!
I always thought of orange as the colour of hope. Today I saw the incredible picture on a TV programme in my friend's house and really I didn't know how to react. For the first time in a voting result Greece has only one colour: all our territory has been "dressed" in orange. No one can challenge the vote of NO to the proposals of the "institutions" as presented in an ultimatum on the 25th of June, regardless of the margin of victory in each region. It seems that NO has surpassed 61% of the votes, has beaten YES by more than 20%, with a turnout of about 60% (when only 40% was needed to be valid). Especially as the issue was about the economy.
I read more about the orange colour on a website on chromotherapy: it is the colour of inspiration, of balance, of expression, of transformation. Orange drives away depression and opens the door to new experiences.
Greece took a very big step. But this battle isn't a Greek one. I was very glad, like most of us here, for the demonstrations that took part across Europe. Now it's time we play a well-known game since ancient times: it's time to play a relay race. Three more players must be found to start. Today's speech by Martin Schulz*, right after the results of the #Greferendum, needs an answer. The leaders of Europe (apart from Greece as he said) agree to the measures proposed by the Institutions. What about their people? Do their people agree? And what can happen if the people of Europe show in their own way that they want another kind of Europe and that they disagree?
Chain reaction:
Antonis Samaras, the ex-prime minister of the country, resigned right after the referendum from the leadership of the political party "New Democracy".
"It is difficult to imagine discussions on a new program after this result, Tsipras has brought down the last bridges on which a compromise could be built between Greece and Europe", said the social democratic chancellor of Germany, Zigmar Gabriel, and left us speechless here in Greece…
"The Commission," said President Juncker, "will be in a meeting today night and tomorrow with the other democratic leaders of the rest 18 member states of the eurozone."
* http://audiovisual.europarl.europa.eu/AssetDetail.aspx?id=d9fb4298-0c7c-435f-ac51-a4cc0167e4ed
 Οδεύοντας προς το δημοψήφισμα
Μέρος τελευταίο: Μπροστά τι έρχεται δεν ξέρω, μα πίσω δεν γυρνώ!
Πάντα θεωρούσα το πορτοκαλί χρώμα της ελπίδας. Σήμερα, αντικρίζοντας την πρωτοφανή εικόνα στην τηλεόραση μιας φίλης, έμεινα εμβρόνητη μη ξέροντας πώς να αντιδράσω. Για πρώτη φορά σε αποτέλεσμα κάλπης όλη η Ελλάδα είχε ένα χρώμα, όλη η Ελλάδα ντύθηκε πορτοκαλί. Το ΟΧΙ στο τελεσίγραφο των Θεσμών της 25ης Ιουνίου είναι αδιαμφισβήτητο, ανεξάρτητα με το ποσοστό ανά νομό. Φαίνεται να ξεπερνά το 61% των ψηφοφόρων, να υπερισχύει με 20% του ΝΑΙ και όλο αυτό σε ένα ποσοστό 60% του εκλογικού σώματος που προσήλθε να ψηφίσει (θυμίζω ότι για την εγκυρότητα του δημοψηφίσματος έπρεπε να προσέλθει τουλάχιστον το 40% του εκλογικού σώματος). Ας μην αναφέρουμε ότι το θέμα αφορούσε οικονομία.
Διαβάζω ακόμα για το πορτοκαλί σε website χρωματοθεραπείας: είναι το χρώμα της έμπνευσης, της ισορροπίας, της έκφρασης, της μετάλλαξης. Το πορτοκαλί διώχνει την κατάθλιψη και ανοίγει τη διάθεση για νέες εμπειρίες.
Η Ελλάδα έκανε ένα πολύ μεγάλο βήμα. Όμως αυτή δεν είναι η μάχη της Ελλάδας. Χάρηκα πολύ, όπως όπως οι περισσότεροι και οι περισσότερες εδώ, για τις κινητοποιήσεις που έγιναν σε όλη την Ευρώπη. Τώρα χρειάζεται να παίξουμε ένα αγώνισμα γνωστό από τους αρχαίους χρόνους άρα με πολλές και σημαντικές εγγραφές στη συλλογική μας συνείδηση, τη σκυταλοδρομία. Χρειάζεται να βρεθούν τουλάχιστον οι επόμενοι 3 παίχτες γι' αυτό. Το σημερινό διάγγελμα του Μάρτιν Σούλτς*, αμέσως μετά τα αποτελέσματα του δημοψηφίσματος, χρειάζεται μια απάντηση. Οι ηγέτες (πλην της Ελλάδας όπως είπε) συμφωνούν με τα προτεινόμενα μέτρα από τους Θεσμούς. Οι λαοί τους συμφωνούν όμως; Και τι γίνεται αν οι λαοί δείξουν με ένα δικό τους τρόπο ότι επιθυμούν μιαν άλλη Ευρώπη και ότι δεν συμφωνούν;
 Αντιδράσεις αλυσιδωτές:
Ο Αντώνης Σαμαράς, πρώην πρωθυπουργός της χώρας, παραιτήθηκε αμέσως μετά το δημοψήφισμα, από την ηγεσία της Νέας Δημοκρατίας.
«Είναι δύσκολο να φανταστούμε συνομιλίες για ένα νέο πρόγραμμα μετά από αυτό το αποτέλεσμα, ο Τσίπρας γκρέμισε και τις τελευταίες γέφυρες πάνω στις οποίες θα μπορούσε να κτιστεί ένας συμβιβασμός με την Ευρώπη», είπε ο σοσιαλδημοκράτης αντικακγελάριος Ζίγκμαρ Γκάμπριελ και μας άφησε άφωνους εδώ στην Ελλάδα…
Η Κομισιόν ανακοίνωσε ότι ο Πρόεδρος Γιουνκέρ διασκέπτεται σήμερα το βράδυ και αύριο με τους δημοκρατικά εκλεγμένους ηγέτες των άλλων 18 μελών της ευρωζώνης.
Ο κόσμος είναι ξανά σήμερα στους δρόμους γιορτάζοντας. Ο Τσίπρας τον οδήγησε στο πρώτο δημοψήφισμα μετά από 41 χρόνια, με διακυβέρνηση μόνο 6 μηνών. Διαβάζω σε αυτοσχέδιο πλακάτ: «Μπροστά τι έρχεται δεν ξέρω, μα πίσω δεν γυρνώ!».