Summit of the Americas in Panama Ends Today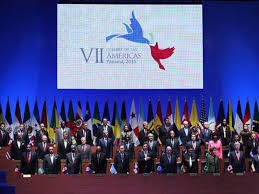 Panama, Apr 11 (Prensa Latina) The Seventh Summit of the Americas will end today in Atlapa Convention Center, with a plenary session to be attended by thirty leaders of the region.
Presidents Santos and Obama to Meet in Panama
Pope Francis yesterday addressed a message to the host President Juan Carlos Varela and all participants at the meeting during the inauguration. Among other issues, the message stresses the poor can no longer live with the crumbs which fall from the table of the rich.
The text was read by the special envoy of the Sum Pontiff, Cardinal Pietro Parolin, who is also the Vatican secretary of state.
UN Secretary General Ban Ki-moon and Secretary of the Organization of American States Jose Miguel Insulza, also made speeches at the opening ceremony. They both agreed in praising the climate of dialogue of the meeting and highlighted the rapprochement between the United States and Cuba.
The greeting at the opening ceremony between the Presidents Raul Castro, of Cuba, and Barack Obama, of the United States, today marks the news events of Panamanian and international media in Panama City.
As a host, Panamanian President Juan Carlos Varela officially opened the meeting in a speech where he said that after 59 years, the countries of the continent are reunited in Panama, to address common issues affecting them and devise strategies to deal with them.
Varela stated this meeting will serve to make decisions that ensure the promising future of America and define the role our countries are called to play in the world, as instruments of peace, development, social justice and equity.
The withdrawal of the Cuban delegation from the Civil Society Forum for their reluctance to share spaces with individuals who have been accused of terrorists and mercenaries, was another highlight of the event.
The fraternal meeting of Bolivian President Evo Morales with those attending the Summit of Peoples, in which he recalled the history of social movements in his country and the continent, left a totally sweeter taste.
sgl/lvd/tgj/orm
Modificado el ( sábado, 11 de abril de 2015 )