Ethic and Legacy of Eduardo Galeano Highlighted in Cuba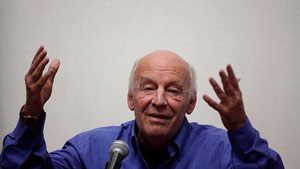 Havana, April 13 (Prensa Latina) The death of Eduardo Galeano shocked today to Cuban narrator Marilyn Bobes, who considered the Uruguayan writer the best interpret of Latin American reality.
Famous Uruguayan Writer Eduardo Galeano Dies
Winner of the Casa de las Américas prize, like Galeano, the Cuban writer stressed the impressive ethic also as journalist and close friend of Cuba, a man of left alien to the stereotype.
"We have lost one of the greats of the continent, a charming, sharp and witty man,' said the poetess and also journalist to Prensa Latina, still shocked by the bad news.
She stressed the essay The Open Veins of Latin America as an essential and enlightening text of reality on this continent, which also dissected in his micro-chronics.
Bobes, one of the most widely read authors of contemporary literature in Cuba, won two separate awards Casa de las Americas for Someone has to mourn (1995) and Winter Fever (2005).