A conservator Governor in India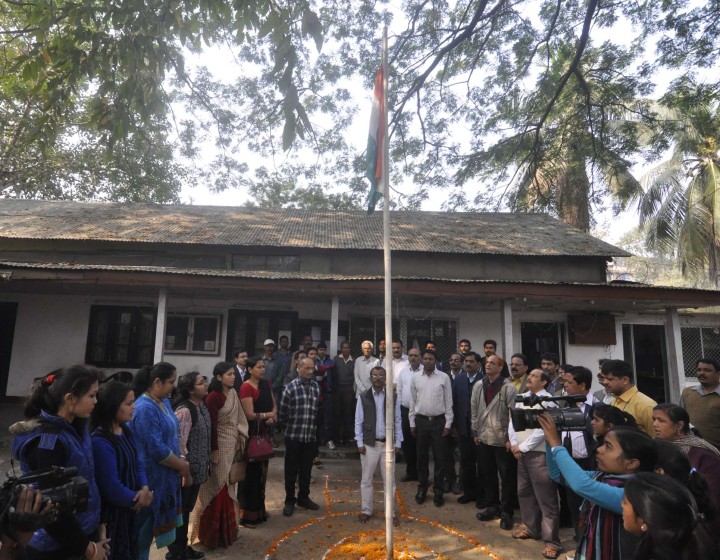 Assam finds a conservator of wildlife in its new Governor Padmanabha Balakrishna Acharya, who has made it clear that unlike other constitutional heads of the State, he would not be a mute spectator in respect to protecting the great Indian one-horned rhinoceros.
Governor Acharya, who is also in charge of Nagaland and Tripura, had recently invited a group of intellectuals of Assam to Rajbhawan in Guwahati to express his serious concern over unabated rhino-poaching incidents in various forest reserves.
A soft-spoken gentleman, but maintaining a strict discipline in functioning, Governor Acharya openly stated about the incapability of Assam forest department to safeguard the rhinos of Kaziranga National Park, which is also an UNESCO world heritage site.
"We must all realize that it is our foremost responsibility to immediately and relentlessly nip in the bud the nefarious activities of the poachers, who are enemies of the nation, with the trust of people," said the Governor.
Stating one-horned rhinos (scientific name Rhinoceros unicornis) as the highest pride of Assam, Governor Acharya reiterated, "We are accountable to the people of Assam and the nation. Our inefficiency may result in an ecological void which may never ever be filled again."
The single horn rhino has a world population of around 3,300 individuals in the wild and the species is surviving in India (mostly in Assam), Nepal and Bhutan only. Assam has over 2550 rhinos (as per the Assam forest department's 2013 census) in the wild spreading over various protected forest reserves including Kaziranga (2329), Pobitora Wildlife Sanctuary (100), Rajib Gandhi Orang National Park (95) and Manas National Park (21).
The rhinos are poached for their horns, which have high market value in China and some Southeast Asian countries where they believe the horns to have medicinal (read Viagra-like) virtues. But the biological scientists categorically deny any imperative value of the rhino horn, which is actually an amalgamation of hairs grown on the nose of the animal.
Though the giant animal is protected under India's powerful wildlife protection act which has been under implementation in the entire country since 1972, Assam continues to lose the precious rhinos. Last year, Kaziranga alone lost 27 rhinos to the poachers and this year the casualties in the State have soared up to 9 till the end of March.
Facing the heat of growing criticism from various corners over the relentless poaching of precious rhinos, Assam chief minister Tarun Gogoi declared recently to raise a Rhino Protection Force with more than twelve hundred personnel. He also added that Assam government was looking for high-end equipment like night vision devices, thermal scanners, surveillance cameras, GPS and green drones to deal with the menace of notorious poachers.
Supporting the initiative of Governor Acharya, a journalist body of Assam has urged the State forest department to come clean on the rhino horns kept in its custody. Journalists' Forum Assam (JFA), an active media body of northeast India, reiterated its old demand for conducting a transparent forensic test of all rhino horns preserved by the forest department, hinting that some of those horns were already smuggled for illegal trading.
"The illegal trade of rhino horns must be stopped to preserve the large animals both in Asia and Africa. We suspect that some elements inside the State forest department continue links with the international traders for their selfish interest," said a statement issued by JFA president Rupam Barua.
"Unless the people of Assam are given the authentic information about rhino horns in government custody, the trade with replacement of real rhino horns with fake ones would continue," added the statement asserting that wildlife lovers can not tolerate a trade that threatens the very existence of a many centuries old species.