Twenty Days Without News of Missing Mexican Students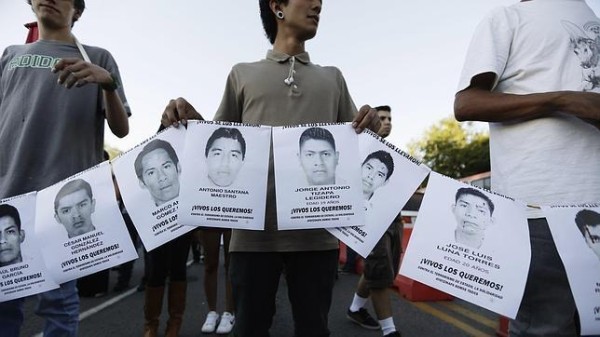 Mexico, Oct 16 (Prensa Latina) After 20 days today of the disappearance of 43 students Ayotzinapa normal, in the Mexican state of Guerrero, the government acknowledged that does not know their whereabouts, while still investigating the Iguala case. The day before President Enrique Peña Nieto issued a message of encouragement to the families of the missing, but acknowledged that the authorities have no idea of where they could be.
Meanwhile marches and protests in Guerrero and other states of the country, multiplied.
Although more mass graves were found, the human remains do not correspond to the 43 students of the rural school Ayotzinapa missing, and authorities are still unable to respond to the public the demands for justice and the return alive of those young students.
All this despite the fact that there are 22 policemen of Iguala being investigated, eight members of the criminal group Guerreros Unidos arrested, other 14 municipal police officers of Cocula behind bars, and the mayor, his wife and secretary Security of Iguala fugitives.
According to media reports, on 26 September, students from the Rural Normal School of Ayotzinapa moved to Iguala de la Independencia for a rally promoting the march on October 2, which marked 46 years of the so-called Tlatelolco Massacre.
Teachers said that when they were withdrawing, municipal police fired on the vehicles they were traveling, and two students were killed.
Hours later, in a press conference, they were again attacked by the authorities, who arrested 43 youths and took them away in trucks and patrol cars.
According to several tips, the students have been handed over to the criminal cartel Guerreros Unidos.
The Hornets football team Chilpancingo was also attacked and one of his players killed. The balance of the day was six killed, 16 wounded and 43 missing.
Governor Aguirre said that he would leave office only if they decide it in a referendum in Guerrero.
Meanwhile President Peña Nieto ordered, since 6 October, the participation of federal forces and institutions in the investigation.
Meanwhile, the case has raised Iguala social temperature, especially in the student sector, yesterday teachers held a strike in dozens of university and higher secondary education, culminated in a march and rally at the Attorney General's Office in this capital.