Putin and Poroshenko Conclude First Face-to-Face Talks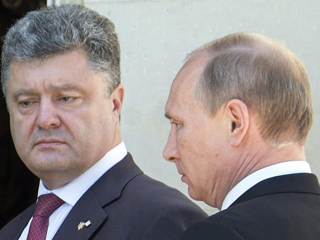 Minsk, Aug 27 (Prensa Latina) Russian President Vladimir Putin and his Ukrainian counterpart, Piotor Poroshenko, concluded their first face-to-face talks at midnight on Wednesday, the press advisor to the Russian head of State, Dimitri Peskov, said.
The meeting started in the capital of Belarus at closed doors, after the banquet that followed the nearly-four-hour-long debates held on Tuesday by the presidents of the Customs Union (CU), made up of Belarus, Kazakhstan and Russia, with Poroshenko and three commissioners of the European Union (EU).
The talks focused on the interaction between the CU and Kiev under new circumstances, after the signing of the Agreement of Association and Free Trade between the EU and Ukraine.
Putin told his interlocutors that Russia will have to apply countermeasures in light of the implementation of the agreement of association and free trade between Ukraine and the European Union, which will cause Russia to lose millions of dollars (nearly 2.8 billion dollars, according to estimates).
He recalled that the three countries are the major trading partners of Ukraine, with trade worth 50 billion dollars in 2013, and 22.7 billion dollars in the first semester of 2014.
Putin explained that those actions comply with the rules of the World Trade Organization (WTO) and the free trade agreement signed within the framework of the Community of Independent States (CIS), and are not aimed at discriminating against anyone.
It is a matter of implementing a standard commercial regimen regarding Ukraine, the same applied to trade between Russia and the EU, he noted.
Poroshenko, in turn, noted that none of the participants doubts about Ukraine's independence and its people's right to choose their present and future, as well as the choice to be a unitary, democratic and European State.
Unlike Poroshenko, who described the talks as decisive for the world, Belarusian President Alexander Lukashenko valued the meeting's contribution as a starting point for dialogue in Ukraine.
All participants agreed that Minks should host the negotiations of the Contact Group for Ukraine, concluded Lukashenko.