Equatorial Guinea: African Union Discusses Creation of African Monetary Fund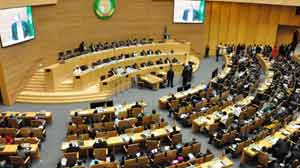 Malabo, Jun 27 (Prensa Latina) A project to create an African Monetary Fund is among the proposals being presented by regional leaders attending the 23rd Summit of the African Union (AU), which concludes its sessions in Equatorial Guinea"s capital today.
The list of legal initiatives under discussion at the meeting also include AU Convention projects on cyber-security and another having to do with trans-border cooperation.
According to the summit agenda, African heads of State and Government must still discuss and approve the African Charter on the Values and Principles of Decentralisation, Local Governance and Local Development.
They will also discuss the Protocol on the Statute of the African Court of Justice and Human Rights, as well as the Constitional Act of the African Union.
The program is being completed with the discussion of a series of reports on activities carried out by different AU entities over the last six months.
At the opening ceremony of the AU summit yesterday, the host president, Obiang Nguema Mbasogo, said that the meeting is being held at a moment in which the international community must find solutions to economic and insecurity problems, as well as the risks entailed by climate change.