Will Election Unite Ukraine? Dozens Killed in Airport Battle as President-Elect Vows Russia Talks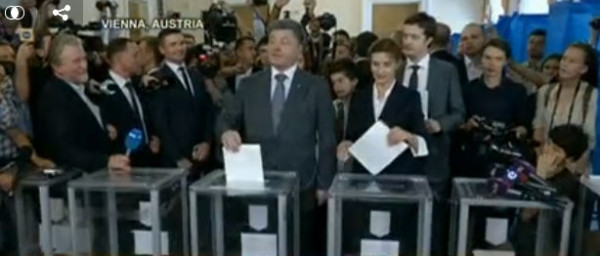 At least 30 pro-Russian rebels have reportedly died in fierce fighting at the airport in the eastern Ukrainian city of Donetsk. The Ukrainian government bombarded the airport with air strikes, then paratroopers, after rebels seized it on Monday. The fighting began just hours after the pro-European billionaire candy tycoon Petro Poroshenko won Ukraine's first presidential election since the ouster of Viktor Yanukovych. After his election, Petro Poroshenko said he was ready to negotiate with Russian President Vladimir Putin, but he ruled out any talks with pro-Russian rebels in eastern Ukraine. To discuss these developments, we are joined by three guests: Christopher Miller of the Kyiv Post, reporting just steps from the embattled airport in Donetsk; Jack Matlock, the former U.S. ambassador to the Soviet Union from 1987 to 1991; and Timothy Snyder, professor of history at Yale University, who just returned from Kiev and wrote the article in The New York Review of Books titled "Ukraine: The Edge of Democracy."
Transcript
This is a rush transcript. Copy may not be in its final form.
AARON MATÉ: Dozens of pro-Russian rebels have reportedly died in fierce fighting at the airport in the eastern Ukrainian city of Donetsk. The rebels seized the airport Monday morning. The Ukrainian government responded with force, launching air strikes, then paratroopers.
The fighting began just hours after pro-European billionaire Petro Poroshenko won Ukraine's first presidential election since the ouster of Viktor Yanukovych in February. Poroshenko took about 55 percent of the vote, enough to avoid a runoff. Polling stations never opened in parts of eastern Ukraine, where pro-Russian rebels have formed a self-proclaimed people's republic.
AMY GOODMAN: After his election, Petro Poroshenko said he was ready to negotiate with Russian President Vladimir Putin, but he ruled out any talks with pro-Russian rebels in eastern Ukraine.
To talk more about Ukraine, we go first to Donetsk. Christopher Miller is an editor at Kyiv Post. He's been based in Ukraine for four years.
Talk about the results of the election and who the man is who won.
CHRISTOPHER MILLER: The results of the election were Poroshenko winning by a landslide, and with more than—much more than 50 percent of the vote. However, that percentage in Donetsk region, specifically, was much lower. The turnout here was about 15 percent. I did speak with some people who were able to vote, not in Donetsk city proper, but in a western city here called Krasnoarmeysk. Some of them voted for Poroshenko, they said, because they had no other choice. They had no one who represented their views in the region. Others voted—said they voted for the former Party of Regions member Sergiy Tigipko. But there is very little support for Poroshenko in Donetsk, and, you know, more than 80 percent of the population was disenfranchised here.
AMY GOODMAN: You are right near the airport, Christopher. Can you talk about what's happening there right now?
CHRISTOPHER MILLER: Yeah, I'm several hundred meters from the airport, as close as I can get right now. There's about six dump trucks full of dirt. They're being moved into the street and used as barricades. There are several hundred tires stacked up in front of them, the sort of first line of the barricade, and everything is wrapped in razor wire. There's about 30 armed rebels here, several with anti-tank weapons rigged over their shoulders, all with Kalashnikovs and pistols tucked into their flak jackets. It's a pretty tense scene. There are some locals standing by and about a dozen journalists, as well. We're not sure exactly what's going to happen here. We haven't heard gunfire for several hours, but there was several bursts of it earlier this morning.
Read the full transcript at Democracy Now!