Convicted Occupy Wall Street Activist Triggers Criticism in U.S.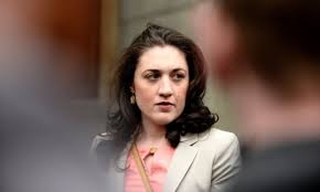 Washington, May 7 (Prensa Latina) A court ruling has found Occupy Movement activist Cecily McMillan guilty of felony assault against a police officer, triggering harsh criticism in the U.S. McMillan, a student at the New School University and Occupy Wall Street (OWS) activist, was accused of hitting an NYPD officer in the eye when this one tried to arrest her.
In her defense, McMillan argued the reaction was instinctual after someone grabbed her right breast from behind and she did not know it was a police officer.
The Nation journal said on Monday, McMillan is one of the first protesters to be charged with serious criminal charges
She was arrested on March 17th 2012 when she was leaving Zuccotti Park after a protest to celebrate the six months of the OWS movement.
Following the court ruling, McMillan was sent directly to a detention center in Rikers Island where she will remain until May 19th, when she will receive the final sentence.
After the decision, her supporters demonstrated outside the courthouse and then headed for the Zuccotti Park, shouting slogans against the police demanding the officers were trialed for sexual assault.