Multilingualism in Bangladesh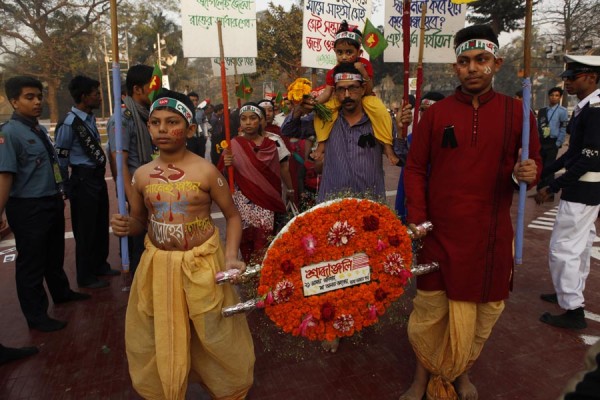 We belong to an age where global distances are decreasing rapidly. To be an active part of the global village, co-operation through exchanging our various diversities is a continuous necessity. Diversities exist at all levels of life, and in every nook and corner of the world. Among the components, language is undoubtedly the most marked. Language allows understanding of each other and can unite different thoughts under one 'head'.
By Aziza Hena*
Though linguistic diversity is well evidenced in the approximately 7,000 languages in use today, only a few languages occupy our attention because of their use-value in global communications. Due to such situation, a wide range of people worldwide suffer as soon as they step into the global orbit for whatever purpose. So, it is easily understandable that the necessity of multilingualism is a demand of the present day. However, the emerging and acceptance of multilingualism is not an exception or dream but necessary!
Multilingualism is a requirement to ensure global citizenship. Global citizenship, to me, is not a mere concept. Rather, its reality is far-reaching. Each individual human-being firstly belongs within his or her geographical boundary but at the same time he or she is part of the global community. It is because of the segmented geographical parts (named as countries) that collectively create a unique category – the world. So, people of whole world irrespective of their caste, creed, colour, language, gender or class are entitled to be the part of the global citizenship just like they are entitled to citizenship within their national boundaries. However, membership in the global domain does not mean total transcendence of one's geographical identity. Such membership is a recognition to be integrated freely in all of active spaces of an open world. Multilingual competence is an effective step-up gear in that regard.
Multilingualism consolidates the global crowd to share culture, history, educational and professional aspects with each other. In this era of globalization, human beings are moving frequently from one place to another with their ambitions and functions. Simultaneously, they have to deal with 'foreigners' within their native regions. Either on the home ground or abroad, responses to differences can be possible if multilingualism becomes commonplace.
The role of multilingualism is precious in boosting global citizenship. Nonetheless, contextual availability and usage of multilingualism is important to that end. Bangladesh, the home of a language movement, has a rich linguistic heritage. The majority of the population of this land are used to speaking the national language – Bengali. English as a second language has been spread in the academic sectors as well as the administrative and corporate zones to some extent. It is ironic that the ethnic minorities are still going through a dilemma in terms of their linguistic differences. More than 30 different ethnic languages do not have official recognition despite that they are used widely in ethnic locations. Besides English, the interest of Bangladeshis are reaching out to the learning of foreign languages such as French, Spanish, Chinese, Turkish, Arabic, Korean, and Russian. Hindi and Urdu are customary via satellite TV programs. Growing interest in learning particular foreign languages locate particular population groups with that particular purpose. Yet, no foreign language except English has been embraced in a welcoming manner either officially or publicly. In brief, Bangladesh has not spread multilingualism to all walks of life yet. Nevertheless, a small proportion of its inhabitants want to grasp multilingualism in order to fit in as global citizens.
As a part of the global community, Bangladesh believes in democracy. In the democratic arena, discrimination is not allowed but to offer basic needs for all citizens is a must. Education as a backbone of a nation is a catalysing factor and a principle need for citizens of any country. Multilingualism helps ensure quality education for all. It is true that the state language is a prime medium of education and a common way to better understanding but other languages are not unfitting when it comes to expressing thoughts. Dominance of only one language is a threat for the minority who are not spontaneous at the state language. Specially, the problem hits hard at those children whose parents have to deal with a busy schedule both at home and when abroad. This fact is true for a lot of Bangladeshi children. A better solution to this lies in establishing schools and learning centres that offer multilingualism. Ironically, state intervention is not seen in that regard though private initiatives are struggling to do a bit. The promise of democracy is failing in Bangladesh for not ensuring an everywhere friendly education system where multilingualism is welcomed alongside the state language. Thus, a successful walk to global citizenship is hindered.
Higher education abroad is a dream for countless numbers students of developing nations like Bangladesh. Curriculums of higher education in many universities overseas are manipulated in particular state languages totally different from Bengali. So, to cope with foreign education curriculum, Bangladeshi students try to learn other languages beside English and Bengali. At the Institute of Modern Language (IML) at the University of Dhaka – the largest and most reputed public university of Bangladesh – the authorities approach multilingualism by offering English, Spanish, Turkish, Russian, German, French, Arabic, Chinese, Italian, Japanese, Korean and Persian for students of college and university level. Many courses of that institution provide students with scholarships so they can be integrated with the global culture.
Scholarship opportunities in non-English speaking states motivate Bangladeshi students to learn foreign languages like French, Korean, Russian, Spanish and German as determinant choices. Adaptability in these languages increases acceptance of being citizen at global level, and at same time amplifying the scope to develop careers. Language centres in Bangladesh are acting as pioneers to promote this global citizenship. Most remarkably, Alliance Françoise de Dhaka, Goethe Institute and Russian Cultural Centre are leading institutions in that regard. French Workshop Courses and Diploma Courses at Alliance Françoise de Dhaka provide the scope to enrich anyone's resume for international job offers. Goethe institute and Deutsch Larner Sparche are leaders in introducing German in schools, making students competent in another foreign language alongside English. Russian cultural centre is a place of opportunity for students, intellectuals and academics that plan for higher studies in Russia. The centre provides students with full and partial scholarships in accord with academic success.
Cultural exchange is one of the most impressive forms to enhance knowledge boundaries and to decrease the gap among global communities. Multilingual cultural components broaden the possibilities to a greater magnitude. Being a prosperous land of cultural diversity in South Asia, Bangladesh has cordially opened up its all doors to embrace cultures. Literatures, dailies, art- exhibitions, movies of different nations have been worthwhile manifestations of exchanging culture ever since liberation in 1971. Translating multilingual literatures by proficient intellectuals and literary figures has introduced us into various hitherto unknown writings and thus we have discovered a world of knowledge laid out before our very eyes. Developing translation skills has become a valuable skill for many Bangladeshis who live on that industry. No doubt, the scope of learning more than two languages (Bengali and English) have made them worthy members of the translation profession though they are few in number. Moreover, promotion of multilingualism has achieved great value by groups of enthusiastic students and even unemployed youths who enjoy interpreting for tourists.
Satellite cultures in today's world form a constellation of diversities making up a whole new world. This open ground not only offers its viewers sights of hitherto unknowns and the unfamiliar but also allows them to hear divergent words in diverse people's tongue. Embracing the differences derives from an interest on one side and from respect on the other side. Assuredly, such quality is commonly seen among youths whose passion is to blend the known with unknown. Bangladeshi youths are not an exception of that. Television channels like Discovery Channel, National Geographic, Arirang, KBS world, Fox Traveler seldom broadcast programmes in foreign languages outside English. Many enthusiastic juveniles raise their passion to learn foreign languages beside English to access their favorite programmes. Some commercial advertisements of Bangladesh using French, Spanish and Arabic are emblems of respect for multilingualism by young aadvertising directors. Daily soap operas are also seen using popular songs in French, Spanish, Arabic, Hindi, German, and Mandarin alongside English.
The global economy is flourishing now-a-days through successful communications among business delegates of different nationalities. The ability to communicate in foreign languages enhances the opportunity for developing countries to gain attention from the foreign business market. In Bangladesh, the multinational sector promotes multilingualism so that the dealings with better funded foreign projects can enter the country. Such initiatives are good enough to make their staff get better trained. As a result, staff's participation in seminars, discussions and conferences either at homeor abroad becomes easy.
The era of globalization today believes in 'give and take' with cultures; upholding respect for each other as a meaningful concern. Each language itself is a synonym of passion for the advocate, which is supposed to be such by every passionate global citizen. This singular space (our universe) is creating the scope to grab the passion in each single moment. Being a phenomenal part of the space, Bangladesh is trying hard to integrate with that scope. This sacred land shed the blood of martyrs who sacrificed their lives for the sake of securing our mother tongue (21 February, 1952) and is now giving its linguistic beauty to others and taking other nation's linguistic beauty with respect, as well. Though the intensity of practicing multilingualism has not reached a satisfactory level in Bangladesh yet, we believe that the time is not far off when Bangladesh will be a multilingual nation. One thing should be clear at this point; Bengali will always be near our hearts whereas other languages will be friendly arms to ensure democracy and a global citizenship.
Aziza Hena is a MSS (Master of Social Science) student in the department of Women and Gender Studies, University of Dhaka