"Poverty Wages in the Land of Plenty"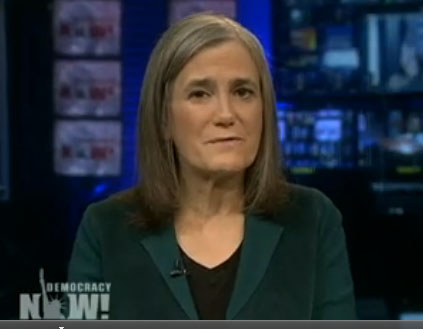 By Amy Goodman & Denis Moynihan for Democracy Now!
The holiday season is upon us. Sadly, the big retailers are Scrooges when it comes to paying their staffs. Undergirding the sale prices is an army of workers earning the minimum wage or a fraction above it, living check to check on their meager pay and benefits. The dark secret that the retail giants like Wal-Mart don't want you to know is that many of these workers subsist below the poverty line, and rely on programs like food stamps and Medicaid just to get by. This holiday season, though, low-wage workers from Wal-Mart to fast-food restaurants are standing up and fighting back.
"Wal-Mart was put in an uncomfortable spotlight on what should be the happiest day of the year for the retailer," Josh Eidelson told me, reporting on the coordinated Black Friday protests. "These were the largest protests we've seen against Wal-Mart … you had 1,500 stores involved; you had over a hundred people arrested." Wal-Mart is the world's largest retailer, with 2.2 million employees, 1.3 million of whom are in the U.S. It reported close to $120 billion in gross profit for 2012. Just six members of the Walton family, whose patriarch, Sam Walton, founded the retail giant, have amassed an estimated combined fortune of between $115 billion-$144 billion. These six individuals have more wealth than the combined financial assets of the poorest 40 percent of the U.S. population.